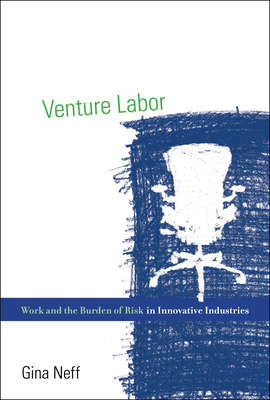 Venture Labor
Work and the Burden of Risk in Innovative Industries (Acting with Technology)
Paperback

* Individual store prices may vary.
Other Editions of This Title:
Hardcover (4/6/2012)
Description
Why employees of pioneering Internet companies chose to invest their time, energy, hopes, and human capital in start-up ventures.
In the dot-com boom of the late 1990s, employees of Internet startups took risks--left well-paying jobs for the chance of striking it rich through stock options (only to end up unemployed a year later), relocated to areas that were epicenters of a booming industry (that shortly went bust), chose the opportunity to be creative over the stability of a set schedule. In Venture Labor, Gina Neff investigates choices like these made by high-tech workers in New York City's "Silicon Alley" in the 1990s. Why did these workers exhibit entrepreneurial behavior in their jobs--investing time, energy, and other personal resources that Neff terms "venture labor"--when they themselves were employees and not entrepreneurs?
Neff argues that this behavior was part of a broader shift in society in which economic risk shifted away from collective responsibility toward individual responsibility. In the new economy, risk and reward took the place of job loyalty, and the dot-com boom helped glorify risks. Company flexibility was gained at the expense of employee security. Through extensive interviews, Neff finds not the triumph of the entrepreneurial spirit but a mixture of motivations and strategies, informed variously by bravado, na vet , and cold calculation. She connects these individual choices with larger social and economic structures, making it clear that understanding venture labor is of paramount importance for encouraging innovation and, even more important, for creating sustainable work environments that support workers.
MIT Press, 9780262527422, 210pp.
Publication Date: February 1, 2015
About the Author
Gina Neff is Associate Professor of Communication and Sociology at the University of Washington and the School of Public Policy at Central European University. She is the coeditor of the book Surviving the New Economy.
or
Not Currently Available for Direct Purchase