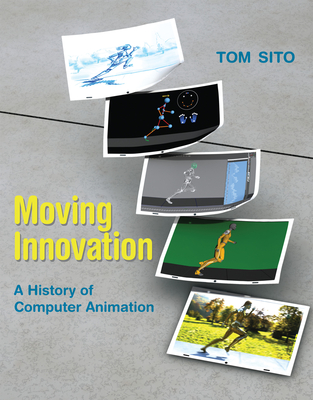 Moving Innovation
A History of Computer Animation
Paperback

* Individual store prices may vary.
Description
A behind-the-scenes history of computer graphics, featuring a cast of math nerds, avant-garde artists, cold warriors, hippies, video game players, and studio executives.
Computer graphics (or CG) has changed the way we experience the art of moving images. Computer graphics is the difference between Steamboat Willie and Buzz Lightyear, between ping pong and PONG. It began in 1963 when an MIT graduate student named Ivan Sutherland created Sketchpad, the first true computer animation program. Sutherland noted: "Since motion can be put into Sketchpad drawings, it might be exciting to try making cartoons." This book, the first full-length history of CG, shows us how Sutherland's seemingly offhand idea grew into a multibillion dollar industry.
In Moving Innovation, Tom Sito—himself an animator and industry insider for more than thirty years—describes the evolution of CG. His story features a memorable cast of characters—math nerds, avant-garde artists, cold warriors, hippies, video game enthusiasts, and studio executives: disparate types united by a common vision. Sito shows us how fifty years of work by this motley crew made movies like Toy Story and Avatar possible.
Praise For Moving Innovation: A History of Computer Animation…
It isn't often that I read a text book that is a real page turner, but Tom Sito's new book
Moving Innovation, A History of Computer Animation
is definitely a must-read.—
Nancy Denney-Phelps
,
Sprockets
—
Tom Sito's new book is the definitive take on computer animation history and CG's rapid rise.
—
Fred Patten
,
Animation World Network
—
There are a lot of books about computer graphics, but some demand more attention than others. One of those is a book by Tom Sito called Moving Innovation.
—
Computer Graphics World
—
The book is very pleasant to read, beautifully written, punctuated with savory stories, and illustrated with a remarkable collection of archive images. I can recommend this as a first-class piece of literature for computer or cinema enthusiasts, as well as for anyone who loves reading a good story.
—
Svetlana Segarceanu
,
Computing Reviews
—
The MIT Press, 9780262528405, 376pp.
Publication Date: August 21, 2015
About the Author
Tom Sito has been a professional animator since 1975. He was one of the key players in Disney's animation revival of the 1980s and 1990s and he helped set up the Dreamworks Animation Unit in 1995. He is the author of Drawing the Line: The Untold Story of the Animation Unions from Bosko to Bart Simpson and Professor of Cinema Practice in the School of Cinematic Arts at the University of Southern California.
or
Not Currently Available for Direct Purchase