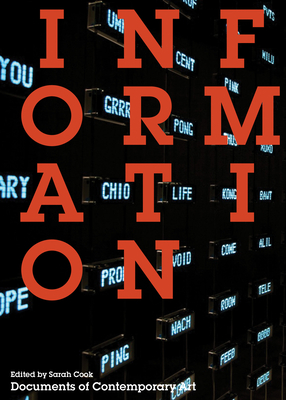 Information (Whitechapel (Paperback)
Documents of Contemporary Art)
Mit Press, 9780262529341, 240pp.
Publication Date: September 9, 2016
* Individual store prices may vary.
Description
An art-historical reassessment of information-based art and exhibition curation, from 1960s conceptualism to current digital and network-based practices.
This anthology provides the first art-historical reassessment of information-based art in relation to data structures and exhibition curation. It examines such landmark exhibitions as "Information" at The Museum of Modern Art, New York, in 1970, and the equally influential "Les Immat riaux," initiated by the philosopher Jean-Fran ois Lyotard at the Centre Pompidou, Paris, in 1984. It reexamines work by artists of the 1960s to early 1980s, from Les Levine and N. E. Thing Co. to General Idea and Jenny Holzer, whose prescient grasp of information's significance resonates today. It also reinscribes into the narrative of art history technologically critical artworks that for years have circulated within new media festivals rather than in galleries.
While information science draws distinctions between "information," signals, and data, artists from the 1960s to the present have questioned the validity and value of such boundaries. Artists have investigated information's materiality, in signs, records, and traces; its immateriality, in hidden codes, structures, and flows; its embodiment, in instructions, social interaction, and political agency; its overload, or uncontrollable excess, challenging utopian notions of networked society; its potential for misinformation and disinformation, subliminally altering our perceptions; and its post-digital unruliness, unsettling fixed notions of history and place.
Artists surveyed include
David Askevold, Iain Baxter, Guy Bleus, Heath Bunting, CAMP (Shaina Anand & Ashok Sukumaran), Ami Clarke, Richard Cochrane, Rod Dickinson, Hans Haacke, Graham Harwood, Jenny Holzer, Joseph Kosuth, Christine Kozlov, Steve Lambert and the Yes Men, Oliver Laric, Les Levine, L szl Moholy-Nagy, Muntadas, Erhan Muratoglu, Raqs Media Collective, Erica Scourti, Stelarc, Thomson & Craighead, Angie Waller, Stephen Willats, Young-Hae Chang Heavy Industries, Elizabeth Vander Zaag
Writers include
James Bridle, Matthew Fuller, Francesca Gallo, Antony Hudek, Eduardo Kac, Friedrich Kittler, Arthur and Marielouise Kroker, Scott Lash, Alessandro Ludovico, Jean-Fran ois Lyotard, Charu Maithani, Suhail Malik, Armin Medosch, Srinivas Aditya Mopidevi, Craig Saper, Jorinde Seijdel, Tom Sherman, Felix Stalder, McKenzie Wark, Benjamin Weil
About the Author
Sarah Cook is a curator and researcher working at the intersection of art, digital and electronic media, and science. She is the coauthor (with Beryl Graham) of Rethinking Curating: Art After New Media (MIT Press), and in 2004 cocurated the touring exhibition, "Database Imaginary." She is Dundee Fellow at Duncan of Jordanstone College of Art and Design, University of Dundee.