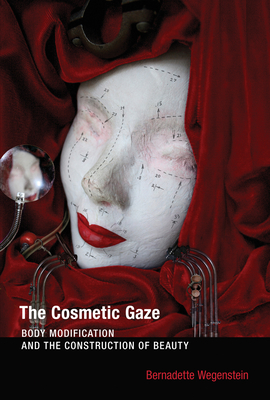 The Cosmetic Gaze
Body Modification and the Construction of Beauty
Paperback

* Individual store prices may vary.
Other Editions of This Title:
Hardcover (3/2/2012)
Description
How the act of looking at our own and others' bodies is informed by the techniques, expectations, and strategies of body modification.
If the gaze can be understood to mark the disjuncture between how we see ourselves and how we want to be seen by others, the cosmetic gaze--in Bernadette Wegenstein's groundbreaking formulation--is one through which the act of looking at our bodies and those of others is already informed by the techniques, expectations, and strategies (often surgical) of bodily modification. It is, Wegenstein says, also a moralizing gaze, a way of looking at bodies as awaiting both physical and spiritual improvement. In The Cosmetic Gaze, Wegenstein charts this synthesis of outer and inner transformation.
Wegenstein shows how the cosmetic gaze underlies the "rebirth" celebrated in today's makeover culture and how it builds upon a body concept that has collapsed into its mediality. In today's beauty discourse--on reality TV and Web sites that collect "bad plastic surgery"--we yearn to experience a bettered self that has been reborn from its own flesh and is now itself, like a digitally remastered character in a classic Hollywood movie, immortal.
Wegenstein traces the cosmetic gaze from eighteenth-century ideas about physiognomy through television makeover shows and facial-recognition software to cinema--which, like our other screens, never ceases to show us our bodies as they could be, drawing life from the very cosmetic gaze it transmits.
MIT Press, 9780262529662, 240pp.
Publication Date: March 2, 2012
About the Author
Bernadette Wegenstein is Research Professor in the Department of German and Romance Languages and Literatures at Johns Hopkins University, where she also directs the Center for Advanced Media Studies. The author of Getting Under the Skin: Body and Media Theory (MIT Press, 2006), she is also a documentary filmmaker.