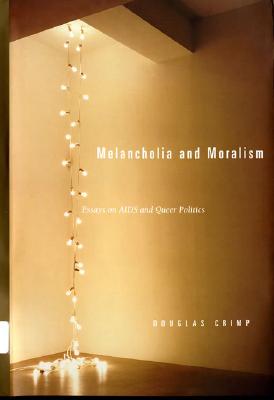 Melancholia and Moralism
Essays on AIDS and Queer Politics
Paperback

* Individual store prices may vary.
Description
Essays challenging the increasing denial of the AIDS crisis and the rise of conservative gay politics.
In Melancholia and Moralism, Douglas Crimp confronts the conservative gay politics that replaced the radical AIDS activism of the late 1980s and early 1990s. He shows that the cumulative losses from AIDS, including the waning of militant response, have resulted in melancholia as Freud defined it: gay men's dangerous identification with the moralistic repudiation of homosexuality by the wider society.
With the 1993 march on Washington for lesbian and gay rights, it became clear that AIDS no longer determined the agenda of gay politics; it had been displaced by traditional rights issues such as gay marriage and the right to serve in the military. Journalist Andrew Sullivan, notorious for pronouncing the AIDS epidemic over, even claimed that once those few rights had been won, the gay rights movement would no longer have a reason to exist.
Crimp challenges such complacency, arguing that not only is the AIDS epidemic far from over, but that its determining role in queer politics has never been greater. AIDS, he demonstrates, is the repressed, unconscious force that drives the destructive moralism of the new, anti-liberation gay politics expounded by such mainstream gay writers as Larry Kramer, Gabriel Rotello, and Michelangelo Signorile, as well as Sullivan. Crimp examines various cultural phenomena, including Randy Shilts's bestseller And the Band Played On, the Hollywood films Silence of the Lambs and Philadelphia, and Magic Johnson's HIV infection and retirement from the Los Angeles Lakers. He also analyzes Robert Mapplethorpe's and Nicholas Nixon's photography, John Greyson's AIDS musical Zero Patience, Gregg Bordowitz's video Fast Trip, Long Drop, the Names Project Quilt, and the annual Day without Art.
MIT Press, 9780262532648, 320pp.
Publication Date: February 27, 2004
About the Author
Gemma Calvert is a Wellcome Career Development Fellow and Head of the Multisensory Research Group at the Department of Physiology and Center for Functional Magnetic Resonance Imaging of the Brain at Oxford University.
or
Not Currently Available for Direct Purchase