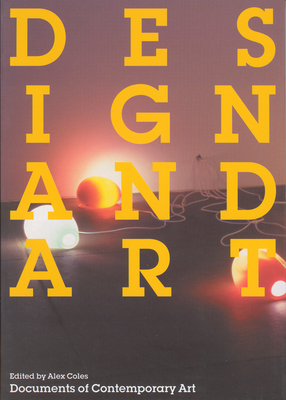 Design and Art (Documents of Contemporary Art)
Paperback

* Individual store prices may vary.
Description
The first anthology to address the rise of the design-art phenomenon--the breakdown of boundaries between art and architectural, graphic, or product design begun in the Pop and Minimalist eras.
This reader in Whitechapel's Documents of Contemporary Art series investigates the interchange between art and design. Since the the Pop and Minimalist eras--as the work of artists ranging from Andy Warhol to Dan Graham demonstrates--the traditional boundaries between art and architectural, graphic, and product design have dissolved in critically significant ways. Design and Art traces the rise of the design-art phenomenon through the writings of critics and practitioners active in both fields.The texts include writings by Paul Rand, Hal Foster, Miwon Kwon, and others that set the parameters of the debate; utopian visions, including those of architect Peter Cook and writer Douglas Coupland; project descriptions by artists (among them Tobias Rehberger and Jorge Pardo) juxtaposed with theoretical writings; surveys of group practices by such collectives as N55 and Superflex; and views of the artist as mediator--a role assumed in the past to be the province of the designer--as seen in work by Frederick Kiesler, Ed Ruscha, and others. Finally, a book that doesn't privilege either the art world or the design world but puts them in dialogue with each other.
Contributors
David Bourdon, Peter Cook/Archigram, Douglas Coupland, Kees Dorst, Charles Eames, Experimental Jetset, Vil m Flusser, Hal Foster, Liam Gillick, Dan Graham, Clement Greenberg, Richard Hamilton, Donald Judd, Frederick Kiesler, Miwon Kwon, Maria Lind, M/M, N55, George Nelson, Lucy Orta, Jorge Pardo, Norman Potter, Rick Poynor, Paul Rand, Tobias Rehberger, Ed Ruscha, Joe Scanlan, Mary Anne Staniszewski, Superflex, Manfredo Tafuri, Rirkrit Tiravanija, Paul Virilio, Joep van Lieshout, Andy Warhol, Benjamin Weil, Mark Wigley, Andrea Zittel
Copublished with Whitechapel Art Gallery, London
MIT Press, 9780262532891, 207pp.
Publication Date: April 20, 2007
About the Author
Alex Coles is a critic, editor, and Professor of Transdisciplinary Studies at the School of Art, Design, and Architecture at the University of Huddersfield, UK. Dan Graham's artwork has been exhibited in museums and galleries around the world. His writings have appeared in Artforum, Arts, and numerous other magazines, books, and monographs. Hal Foster is Townsend Martin '17 Professor of Art and Archaeology at Princeton University and the author of Prosthetic Gods (MIT Press) and other books. Miwon Kwon is Assistant Professor of Art History at the University of California, Los Angeles. Kees Dorst is Professor of Design Innovation at the University of Technology, Sydney. He is the author of Understanding Design: 175 Reflections on Being a Designer and the coauthor of Design Expertise. Manfredo Tafuri is the Director of the Department of History of Architecture at the Istituto Universitario di Architettura in Venice. Mary Anne Staniszewski is an Associate Professor in the Department of the Arts at Rensselaer Polytechnic Institute and author of The Power of Display: A History of Exhibition Installations at the Museum of Modern Art (MIT Press) and, during the past twenty-five years, has overseen or contributed to various Exit Art publications and projects. Andy Warhol (1928-1987) was one of the twentieth century's most important artists and cultural icons. Ed Ruscha is an internationally acclaimed artist based in Los Angeles. Mark Wigley is Professor and Dean Emeritus at Columbia University Graduate School of Architecture, Planning, and Preservation. Maria Lind is Director of the Tensta Konsthall, Stockholm, and former Director of the graduate program at the Center for Curatorial Studies at Bard College. In 2010, Selected Maria Lind Writing was published by Sternberg Press.