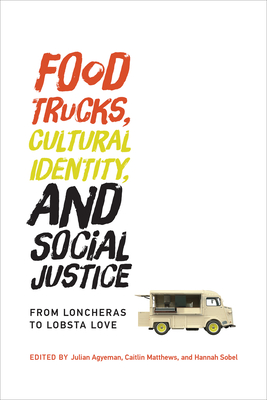 Food Trucks, Cultural Identity, and Social Justice
From Loncheras to Lobsta Love (Food, Health, and the Environment)
Paperback

* Individual store prices may vary.
Description
Aspects of the urban food truck phenomenon, including community economic development, regulatory issues, and clashes between ethnic authenticity and local sustainability.
The food truck on the corner could be a brightly painted old-style lonchera offering tacos or an upscale mobile vendor serving lobster rolls. Customers range from gastro-tourists to construction workers, all eager for food that is delicious, authentic, and relatively inexpensive. Although some cities that host food trucks encourage their proliferation, others throw up regulatory roadblocks. This book examines the food truck phenomenon in North American cities from Los Angeles to Montreal, taking a novel perspective: social justice. It considers the motivating factors behind a city's promotion or restriction of mobile food vending, and how these motivations might connect to or impede broad goals of social justice.
The contributors investigate the discriminatory implementation of rules, with gentrified hipsters often receiving preferential treatment over traditional immigrants; food trucks as part of community economic development; and food trucks' role in cultural identity formation. They describe, among other things, mobile food vending in Portland, Oregon, where relaxed permitting encourages street food; the criminalization of food trucks by Los Angeles and New York City health codes; food as cultural currency in Montreal; social and spatial bifurcation of food trucks in Chicago and Durham, North Carolina; and food trucks as a part of Vancouver, Canada's, self-branding as the "Greenest City."
Contributors
Julian Agyeman, Sean Basinski, Jennifer Clark, Ana Croegaert, Kathleen Dunn, Renia Ehrenfeucht, Emma French, Matthew Gebhardt, Phoebe Godfrey, Amy Hanser, Robert Lemon, Nina Martin, Caitlin Matthews, Nathan McClintock, Alfonso Morales, Alan Nash, Katherine Alexandra Newman, Lenore Lauri Newman, Alex Novie, Matthew Shapiro, Hannah Sobel, Mark Vallianatos, Ginette Wessel, Edward Whittall, Mackenzie Wood
Praise For Food Trucks, Cultural Identity, and Social Justice: From Loncheras to Lobsta Love (Food, Health, and the Environment)…
The greatest strength of this book is its use of food trucks as a lens through which to analyze the racialized political economies of changing foodscapes. The historical connections between immigrant food vendors and creative-class entrepreneurs, and their differential treatment by city officials, are resoundingly clear, as are the abilities of non-profit organizations, community development corporations, and vendors themselves to mitigate and resist these disparities.—Antipode—
The MIT Press, 9780262534079, 346pp.
Publication Date: September 8, 2017
About the Author
Julian Agyeman is Professor of Urban and Environmental Policy and Planning at Tufts University. He is the coauthor of Sharing Cities and the coeditor of The Immigrant-Food Nexus: Borders, Labor, and Identity in North America, each published by the MIT Press.

Caitlin Matthews holds a Master of Arts in Urban and Environmental Policy and Planning and a Master of Science in Agriculture, Food, and Environment from Tufts University.

Hannah Sobel holds a Master of Arts in Urban and Environmental Policy and Planning and a Master of Science in Food Policy and Applied Nutrition from Tufts University

Julian Agyeman is Professor of Urban and Environmental Policy and Planning at Tufts University. He is the coauthor of Sharing Cities and the coeditor of The Immigrant-Food Nexus: Borders, Labor, and Identity in North America, each published by the MIT Press.

Caitlin Matthews holds a Master of Arts in Urban and Environmental Policy and Planning and a Master of Science in Agriculture, Food, and Environment from Tufts University.

Hannah Sobel holds a Master of Arts in Urban and Environmental Policy and Planning and a Master of Science in Food Policy and Applied Nutrition from Tufts University

Renia Ehrenfeucht is Associate Professor in the Department of Planning and Urban Studies at the University of New Orleans.

Julian Agyeman is Professor of Urban and Environmental Policy and Planning at Tufts University. He is the coauthor of Sharing Cities and the coeditor of The Immigrant-Food Nexus: Borders, Labor, and Identity in North America, each published by the MIT Press.

Caitlin Matthews holds a Master of Arts in Urban and Environmental Policy and Planning and a Master of Science in Agriculture, Food, and Environment from Tufts University.

Hannah Sobel holds a Master of Arts in Urban and Environmental Policy and Planning and a Master of Science in Food Policy and Applied Nutrition from Tufts University
or
Not Currently Available for Direct Purchase