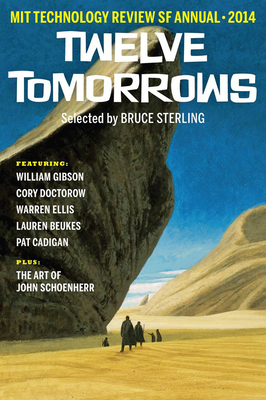 Twelve Tomorrows 2014 (Paperback)
Mit Press, 9780262535595, 240pp.
Publication Date: May 1, 2014
* Individual store prices may vary.
Description
A diverse collection of science fiction authors, characters, and stories, featuring contributions by Pat Cadigan, Cory Doctorow, Warren Ellis, and Gene Wolfe.
Originally launched in 2011 by MIT Technology Review, the Twelve Tomorrows series explores the future implications of emerging technologies through the lens of fiction. Featuring a diverse collection of authors, characters, and stories rooted in contemporary real-world science, each volume in the series offers conceivable and inclusive stories of the future, celebrating and continuing the genre of "hard" science fiction pioneered by authors such as Isaac Asimov, Arthur C. Clarke, and Robert Heinlein.
The stories chosen by Bruce Sterling for this edition of Twelve Tomorrows includes Pat Cadigan on interface design and refrigerator neuroses; Cory Doctorow on networks, power, and rot-fungus; Warren Ellis on spy tradecraft in a hyper-connected world; and a Q&A with science fiction legend Gene Wolfe.