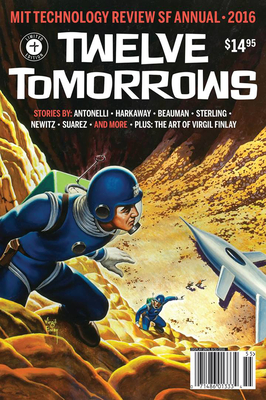 Twelve Tomorrows 2016 (Paperback)
Mit Press, 9780262535601, 240pp.
Publication Date: May 1, 2016
* Individual store prices may vary.
Description
A diverse collection of science fiction authors, characters, and stories, featuring contributions by Nick Harkaway, Charles Stross, Jo Walton, and Paula Antonelli.
Originally launched in 2011 by MIT Technology Review, the Twelve Tomorrows series explores the future implications of emerging technologies through the lens of fiction. Featuring a diverse collection of authors, characters, and stories rooted in contemporary real-world science, each volume in the series offers conceivable and inclusive stories of the future, celebrating and continuing the genre of "hard" science fiction pioneered by authors such as Isaac Asimov, Arthur C. Clarke, and Robert Heinlein.
This volume of Twelve Tomorrows, edited by Bruce Sterling (as was the 2014 volume), includes stories by Nick Harkaway, Charles Stross, and Jo Walton, as well as an extraordinary vision of design by Paula Antonelli, a curator of art and design attThe Museum of Modern Art.