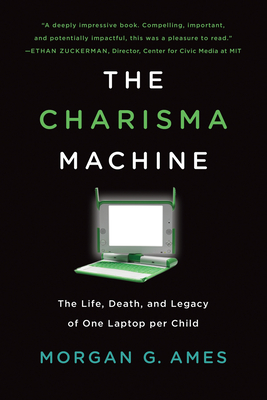 The Charisma Machine
The Life, Death, and Legacy of One Laptop per Child (Infrastructures)
Paperback

* Individual store prices may vary.
Description
A fascinating examination of technological utopianism and its complicated consequences.
In The Charisma Machine, Morgan Ames chronicles the life and legacy of the One Laptop per Child project and explains why—despite its failures—the same utopian visions that inspired OLPC still motivate other projects trying to use technology to "disrupt" education and development.
Announced in 2005 by MIT Media Lab cofounder Nicholas Negroponte, One Laptop per Child promised to transform the lives of children across the Global South with a small, sturdy, and cheap laptop computer, powered by a hand crank. In reality, the project fell short in many ways—starting with the hand crank, which never materialized. Yet the project remained charismatic to many who were captivated by its claims of access to educational opportunities previously out of reach. Behind its promises, OLPC, like many technology projects that make similarly grand claims, had a fundamentally flawed vision of who the computer was made for and what role technology should play in learning.
Drawing on fifty years of history and a seven-month study of a model OLPC project in Paraguay, Ames reveals that the laptops were not only frustrating to use, easy to break, and hard to repair, they were designed for "technically precocious boys"—idealized younger versions of the developers themselves—rather than the children who were actually using them. The Charisma Machine offers a cautionary tale about the allure of technology hype and the problems that result when utopian dreams drive technology development.
Praise For The Charisma Machine: The Life, Death, and Legacy of One Laptop per Child (Infrastructures)…
Winner, 2020 Sally Hacker Prize, Society for the History of Technology

Winner of the 2021 Computer History Museum Prize from SIGCIS

Winner of the 2020 Best Information Science Book awarded by the Association for Information Science and Technology (ASIS&T)

Runner-up for 2020 ARSTM Book Award

"OLPC is one of the great stories of technology and social change, breathtaking in ambition, with noble but unexamined intentions and profound failures of execution. With an admirable mix of firsthand perspective and scholarly distance, Morgan Ames provides a helpful set of tools for understanding enthusiasm for a wave of new technologies. The idea of a 'charismatic technology' is one that will influence technology scholars to come."—Ethan Zuckerman, Director, Center for Civic Media at MIT

"Morgan Ames, in a beautifully written account, excavates how and why technologists, educators, and pundits cast the One Laptop per Child project as a societal savior. Incisive and extensively researched, The Charisma Machine's searing critique of OLPC is filled with insights about the pitfalls of naive design endeavors all too common in the contemporary era."—Gabriella Coleman, Wolfe Chair in Scientific and Technological Literacy, McGill University; author of Hacker, Hoaxer, Whistleblower, Spy: The Many Faces of Anonymous

"The Charisma Machine should be required reading for all ed tech enthusiasts before they jump onto the next bandwagon. Morgan Ames's insightful and immensely readable analysis of the One Laptop per Child initiative reveals how bold-faced ignorance results in reifying privilege and power rather than addressing the needs of learners and teachers."—Yasmin B. Kafai, Lori and Michael Milken President's Distinguished Professor, University of Pennsylvania

"The Charisma Machine delivers an unflinching, rich, and original study of the One Laptop per Child program. This clear-eyed critique shows the allure of technology as a silver bullet to social inequality and what happens when elites, policymakers, and unchecked techno-utopianism run amok. This book is destined to become required reading for those who want to understand why we must stop turning to tech—and technologists—as saviors."—Mary L. Gray, Principal Researcher, Microsoft Research; Affiliate Faculty, Berkman Klein Center for Internet & Society at Harvard University; coauthor of Ghost Work: How to Stop Silicon Valley from Building a New Global Underclass



The MIT Press, 9780262537445, 328pp.
Publication Date: November 19, 2019
About the Author
Morgan G. Ames is a faculty member in the School of Information and Associate Director of Research at the Center for Science, Technology, Medicine, & Society at the University of California, Berkeley.
or
Not Currently Available for Direct Purchase