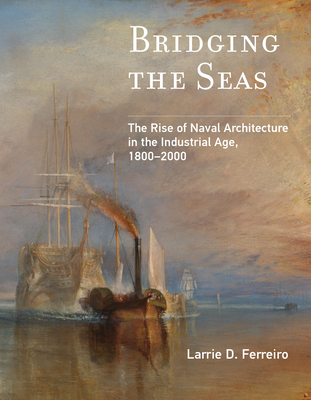 Bridging the Seas
The Rise of Naval Architecture in the Industrial Age, 1800-2000 (Transformations: Studies in the History of Science and Technology)
Paperback

* Individual store prices may vary.
Description
How the introduction of steam, iron, and steel required new rules and new ways of thinking for the design and building of ships.
In the 1800s, shipbuilding moved from sail and wood to steam, iron, and steel. The competitive pressure to achieve more predictable ocean transportation drove the industrialization of shipbuilding, as shipowners demanded ships that enabled tighter scheduling, improved performance, and safe delivery of cargoes. In Bridging the Seas, naval historian Larrie Ferreiro describes this transformation of shipbuilding, portraying the rise of a professionalized naval architecture as an integral part of the Industrial Age.
Picking up where his earlier book, Ships and Science, left off, Ferreiro explains that the introduction of steam, iron, and steel required new rules and new ways of thinking for designing and building ships. The characteristics of performance had to be first measured, then theorized. Ship theory led to the development of quantifiable standards that would ensure the safety and quality required by industry and governments, and this in turn led to the professionalization of naval architecture as an engineering discipline. Ferreiro describes, among other things, the technologies that allowed greater predictability in ship performance; theoretical developments in naval architecture regarding motion, speed and power, propellers, maneuvering, and structural design; the integration of theory into ship design and construction; and the emergence of a laboratory infrastructure for research.

Praise For Bridging the Seas: The Rise of Naval Architecture in the Industrial Age, 1800-2000 (Transformations: Studies in the History of Science and Technology)…
Winner of the 2021 John Lyman Award in the Naval and Maritime Science and Technology

"Bridging the Seas is a brilliant, exceptionally well-researched and written account of how the science of building ships transformed not only the maritime world, but also human society first connected globally by those ships. Bridging the Seas is destined to be the standard reference on the subject—and a classic."—James P. Delgado, PhD, archaeologist, undersea explorer, and author

"Bridging the Seas completes a major intellectual achievement, one that has given modern naval architecture a history worthy of the discipline, and equips all those who study the human engagement with the sea the tools they need to understand the ship, the most significant artifact in that relationship, as engineering, design, inspiration, and culture. We are all in Larrie Ferreiro's debt."—Andrew Lambert, Laughton Professor of Naval History, Kings College London
The MIT Press, 9780262538077, 408pp.
Publication Date: January 21, 2020
About the Author
Larrie D. Ferreiro is a naval architect and historian who served for more than thirty-five years in the US Navy, the US Coast Guard, and the Department of Defense. An Adjunct Professor of Engineering and History at George Mason University, he is the author of the award-winning Ships and Science (MIT Press) and Brothers in Arms, a Pulitzer Prize finalist in History.
or
Not Currently Available for Direct Purchase