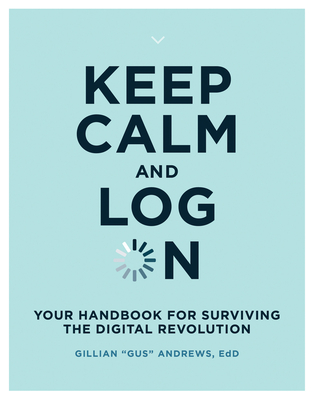 Keep Calm and Log On
Your Handbook for Surviving the Digital Revolution
Paperback

* Individual store prices may vary.
Other Editions of This Title:
Digital Audiobook (9/21/2020)
Description
How to survive the digital revolution without getting trampled: your guide to online mindfulness, digital self-empowerment, cybersecurity, creepy ads, trustworthy information, and more.
Feeling overwhelmed by an avalanche of online content? Anxious about identity theft? Unsettled by the proliferation of fake news? Welcome to the digital revolution. Wait—wasn't the digital revolution supposed to make our lives better? It was going to be fun and put the world at our fingertips. What happened? Keep Calm and Log On is a survival handbook that will help you achieve online mindfulness and overcome online helplessness—the feeling that tech is out of your control—with tips for handling cybersecurity, creepy ads, untrustworthy information, and much more.
Taking a cue from the famous World War II morale-boosting slogan ("Keep Calm and Carry On"), Gus Andrews shows us how to adapt the techniques our ancestors used to survive hard times, so we can live our best lives online. She explains why media and technology stress us out, and offers empowering tools for coping. Mindfulness practices can help us stay calm and conserve our attention purposefully. Andrews shares the secret of understanding our own opinions'' "family trees" in order to identify misleading "fake news." She provides tools for unplugging occasionally, overcoming feelings that we are "bad at technology," and taking charge of our security and privacy. Andrews explains how social media algorithms keep us from information we need and why "creepy ads" seem to follow us online. Most importantly, she urges us to work to rebuild the trust in our communities that the internet has broken.

Praise For Keep Calm and Log On: Your Handbook for Surviving the Digital Revolution…
Though presented as a how-to manual on safe computer and smartphone use targeted to older, tech-phobic users, this essential crash course also has useful guidance on media literacy and critical thinking. Andrews, producer of the YouTube series The Media Show, believes that technological advances, combined with distrust in information and authorities, have overwhelmed users into a "learned helplessness" and made them more susceptible to manipulation. Discussing how to manage one's exposure to digital media and to meaningfully evaluate information, she uses photos from the Great Depression, World Wars I and II, and other historical events as examples of times when communities had to pull together, as she believes everyone must do now in the face of technological change. There is practical, technical help in these pages about online privacy, with details on how to create strong passwords and interact with others safely online, as well as a tools to help readers fact-check information encountered online and understand what kinds of intellectual authority professional qualifications do and don't confer. This should be required reading for both admitted luddites and longtime digital denizens.—Publishers Weekly—
The MIT Press, 9780262538763, 368pp.
Publication Date: April 28, 2020
About the Author
Gillian "Gus" Andrews, EdD, is a public educator, researcher, and digital security trainer. She produced The Media Show, a media literacy series on YouTube.