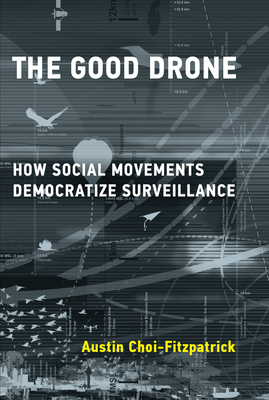 The Good Drone
How Social Movements Democratize Surveillance (Acting with Technology)
Paperback

* Individual store prices may vary.
Description
How small-scale drones, satellites, kites, and balloons are used by social movements for the greater good.
Drones are famous for doing bad things: weaponized, they implement remote-control war; used for surveillance, they threaten civil liberties and violate privacy. In The Good Drone, Austin Choi-Fitzpatrick examines a different range of uses: the deployment of drones for the greater good. Choi-Fitzpatrick analyzes the way small-scale drones—as well as satellites, kites, and balloons—are used for a great many things, including documenting human rights abuses, estimating demonstration crowd size, supporting anti-poaching advocacy, and advancing climate change research. In fact, he finds, small drones are used disproportionately for good; nonviolent prosocial uses predominate.
Choi-Fitzpatrick's broader point is that the use of technology by social movements goes beyond social media—and began before social media. From the barricades in Les Misérables to hacking attacks on corporate servers to the spread of the #MeToo hashtag on Twitter, technology is used to raise awareness, but is also crucial in raising the cost of the status quo.
New technology in the air changes politics on the ground, and raises provocative questions along the way. What is the nature and future of the camera, when it is taken out of human hands? How will our ideas about privacy evolve when the altitude of a penthouse suite no longer guarantees it? Working at the leading edge of an emerging technology, Choi-Fitzpatrick takes a broad view, suggesting social change efforts rely on technology in new and unexpected ways.

Praise For The Good Drone: How Social Movements Democratize Surveillance (Acting with Technology)…
"The Good Drone's very engaging, accessible, and timely account of the importance of material, not just digital, technologies to social movements, is a must-read for anyone interested in understanding how technologies present new opportunities and perils for protesters."
– Jennifer Earl, sociologist and coauthor of Digitally Enabled Social Change

"ChoiFitzpatrick brings deep thought and research together with years of practical experience in writing this insightful account of technology's effects on politics and politics' effects on technology."
– Steven Livingston, Director of the Institute for Data, Democracy, and Politics, George Washington University

"It's hard to know where to start in praise of The Good Drone, but why not with the drone. Just when movement scholars thought they had awakened to the implications of the digital revolution, along comes Choi-Fitzpatrick challenging us to theorize the impact of drones and other cutting-edge technologies on the dynamics of contention. Then there is the inherent fascination of the cases he explores. But for my money, the last chapter of the book is alone worth the price of admission. In it, he sets the new technologies aside to remind us that technology has always powerfully shaped contention, with a compelling revisionist tour of social movement theory to make his case."  
 – Doug McAdam, Ray Lyman Wilbur Professor of Sociology, Stanford University

The MIT Press, 9780262538886, 324pp.
Publication Date: July 28, 2020
About the Author
Austin Choi-Fitzpatrick is Associate Professor of Political Sociology at the Kroc School of Peace Studies at the University of San Diego and concurrent Rights Lab Associate Professor of Social Movements and Human Rights at the University of Nottingham's School of Sociology and Social Policy.
or
Not Currently Available for Direct Purchase