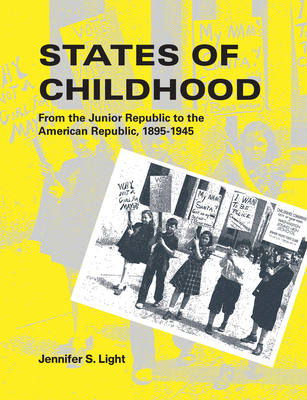 States of Childhood
From the Junior Republic to the American Republic, 1895-1945
Paperback

* Individual store prices may vary.
Praise For States of Childhood: From the Junior Republic to the American Republic, 1895-1945…
"States of Childhood is a fascinating contribution to the history of childhood that makes us rethink young people's role in the modern state. Throughout, Light's focus on dramaturgy, simulation, and performance in the model worlds of junior republics offers a brilliant perspective that will interest scholars in the humanities and social sciences alike."
– Lynn Spigel, Frances Willard Professor of Screen Cultures, Northwestern University

"As we contemplate the pedagogical applications of virtual reality and the worldbuilding potential of generative models, Jennifer Light calls our attention to the 'junior republics' of the last century, where youth practiced being adults and served as a supplemental labor force for their municipalities. In this characteristically meticulous study, Light offers a fascinating genealogy of roleplaying and town planning."
– Shannon Mattern, Professor of Anthropology, The New School
The MIT Press, 9780262539012, 480pp.
Publication Date: July 14, 2020
About the Author
Jennifer S. Light is Director of the Program in Science, Technology, and Society at MIT, where she is Bern Dibner Professor of the History of Science and Technology and Professor of Urban Studies and Planning. She is also Senior Research Fellow at the Charles Babbage Institute at the University of Minnesota.