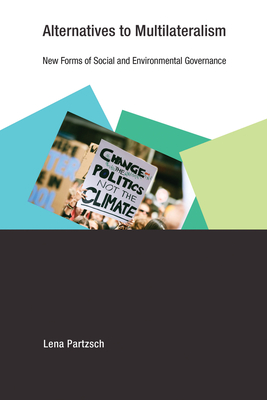 Alternatives to Multilateralism
New Forms of Social and Environmental Governance (Earth System Governance)
Paperback

* Individual store prices may vary.
Description
Analysis and case studies of emerging forms of private, public, and hybrid social and environmental governance.
The effects of globalization on governance are complex and uncertain. As markets integrate, governments have become increasingly hesitant to enforce regulations inside their own jurisdictions. At the same time, multilateralism has proven unsuccessful in coordinating states' responses to global challenges. In this book, Lena Partzsch describes alternatives to multilateralism, offering analyses and case studies of emerging—alternative—forms of private, public, and hybrid social and environmental regulation. In doing so, she offers a unique overview of cutting-edge approaches to global governance.
After laying the theoretical and empirical foundation of her argument, Partzsch presents three case studies from the countries most affected by these new forms of governance. Drawing on primary documents, interviews, and participatory observations, she analyzes cotton supply chains and voluntary (private) cotton certification in Ethiopia; public supply-chain regulation of "conflict resources" from the Democratic Republic of the Congo; and hybrid governance of palm oil production in Indonesia. Partzsch finds that the new entanglement of public and private regulation fails to address social and environmental considerations in mainstream markets; argues that only in exceptional cases do alternative forms of regulation overcome the power asymmetries between actors in the consuming countries of the Global North and those in the producing countries of the Global South; and concludes that, while the paradigm of free trade fades, we must continue to develop viable alternatives in order to pursue collective norms of environmental sustainability and social justice.
Praise For Alternatives to Multilateralism: New Forms of Social and Environmental Governance (Earth System Governance)…
"Ambitious in scope, uncompromising in depth, Partzsch offers a sophisticated, timely investigation of the power struggles and ethical debates shaping transformations in contemporary supply chain governance. A must-read for global scholars interested in social justice and environmental sustainability."
—Kate Macdonald, School of Social and Political Sciences, University of Melbourne
 
"This original analysis of disparate states, global supply chains, and regulatory forms offers crucial insight into the reliance of regulation on private and hybrid arrangements to improve environmental and social conditions in ways that reinforce mainstream markets, while providing the genesis for a more just and sustainable international political economy."
—Susan Park, Department of Government and International Relations, University of Sydney
 
"Voluntary sustainability standards are no longer the only game in town. Mandatory market access regulations are on the rise. Probing cases of each, Partzsch provides valuable material for thinking through the intertwining of public and private authority."
—Tim Bartley, Professor of Sociology, Washington University in St. Louis; author of Rules without Rights
 
"With multilateralism declining, Partzsch's book is a much needed and insightful contribution to the debate on alternative forms of global social and environmental governance."
—Carsten Daugbjerg, Professor, University of Copenhagen
The MIT Press, 9780262539227, 264pp.
Publication Date: August 25, 2020
About the Author
Lena Partzsch is Professor at the University of Freibeurg and Interim Chair of Comparative Government at the University of Erfurt.
or
Not Currently Available for Direct Purchase