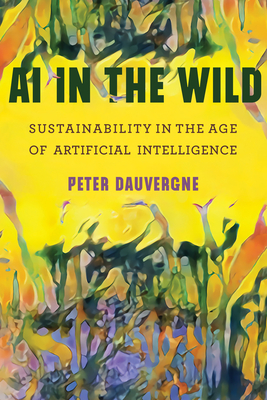 AI in the Wild
Sustainability in the Age of Artificial Intelligence (One Planet)
Paperback

* Individual store prices may vary.
Description
Examining the potential benefits and risks of using artificial intelligence to advance global sustainability.
Drones with night vision are tracking elephant and rhino poachers in African wildlife parks and sanctuaries; smart submersibles are saving coral from carnivorous starfish on Australia's Great Barrier Reef; recycled cell phones alert Brazilian forest rangers to the sound of illegal logging. The tools of artificial intelligence are being increasingly deployed in the battle for global sustainability. And yet, warns Peter Dauvergne, we should be cautious in declaring AI the planet's savior. In AI in the Wild, Dauvergne avoids the AI industry-powered hype and offers a critical view, exploring both the potential benefits and risks of using artificial intelligence to advance global sustainability.
Dauvergne finds that corporations and states often use AI in ways that are antithetical to sustainability. The competition to profit from AI is entrenching technocratic management, revving up resource extraction, and turbocharging consumption, as consumers buy new smart devices (and discard their old, less-smart ones). Smart technology is helping farmers grow crops more efficiently, but also empowering the agrifood industry. Moreover, states are weaponizing AI to control citizens, suppress dissent, and aim cyberattacks at rival states.
Is there a way to harness the power of AI for environmental and social good? Dauvergne argues for precaution and humility as guiding principles in the deployment of AI.
Praise For AI in the Wild: Sustainability in the Age of Artificial Intelligence (One Planet)…
"While rejecting the hackneyed outcome that has AI killing off humanity, this book is as fast-paced and thrilling as any sci-fi storyline. Dauvergne is best when analyzing why it is not too late to guide the genius of AI toward applications that work to increase social and environmental equity and justice." – Joni Adamson, President's Professor of Environmental Humanities and Distinguished Sustainability Scholar, Global Futures Laboratory, Arizona State University

"While much work on artificial intelligence focuses on society, AI in the Wild focuses on what could be one of AI's most profound applications: the preservation of our natural environment." – César A. Hidalgo, Artificial and Natural Intelligence Toulouse Institute (ANITI)

"A must-read for anyone interested in the global impacts of AI and how those who wield it will reshape our world environment in the coming decades." – Kate O'Neill, Professor, Department of Environmental Science, Policy and Management, University of California, Berkeley

"This book is a must-read for anyone interested in the global impact of using AI and how those who wield it have the power to shape our world's environment for the better."  – Engineering & Technology

"Whether social responsibility will be engaged in shaping future AI systems, only time will tell. Meanwhile, Dauvergne continues to offer unique insights into AI as a product of powerful and combined political, economic, and scientific forces. Recommended." – Choice

The MIT Press, 9780262539333, 272pp.
Publication Date: September 15, 2020
About the Author
Peter Dauvergne is Professor of International Relations at the University of British Columbia. He is the author of Environmentalism of the Rich, Eco-Business: A Big-Brand Takeover of Sustainability (with Jane Lister), and The Shadows of Consumption: Consequences for the Global Environment, all published by the MIT Press.
or
Not Currently Available for Direct Purchase