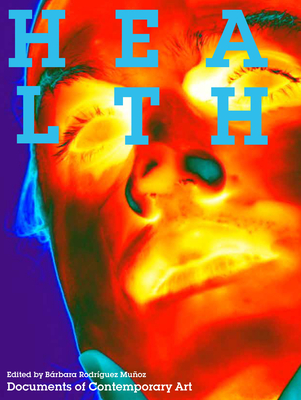 Health (Whitechapel
Documents of Contemporary Art)
Paperback

* Individual store prices may vary.
Description
The ethical, aesthetic and political significance of practices, positions and theories connected to health in contemporary art.
In an era of diet pills, rising antidepressant usage, yoga, and health-management apps, wellness is one of the defining issues of contemporary life, affecting every intimate aspect of our lives. Historically, art has been entwined with the values of medicine, beauty, and the productive body that have defined Western scientific paradigms. Contemporary artists are increasingly confronting and reshaping these ideologies, drawing on the vexed experiences surrounding questions of health and identity. Health explores the ethical, aesthetic, and political significance of practices and theories connected to health and illness in contemporary art.
Raw, confrontational, and affective, these texts consider pressing discourses in artistic practices including care, shifting identities and community building. The featured artists, curators, writers, and thinkers engage with the ways the vulnerability of our bodies and the maladies that seize them also reveal structural aspects of our societies: how hegemonic narratives are connected with ideas of health, disability, and cure, and how sickness intersects with sexuality, ethnicity, gender, and class. By reclaiming other existences—beyond what is considered straight, healthy, neurotypical, or productive—this reader questions the myths, stigmas and cultural attitudes that shape people's perceptions of illness and normativity.
Artists surveyed include
Oreet Ashery, Lucy Beech, Lorenza Böttner, The Canaries and Taraneh Fazeli,  Anne Charlotte Robertson, Andrea Crespo, Patricia Domínguez, Dora García, Felix González-Torres, Johanna Hedva, Rashid Johnson, Mahmoud Khaled, Carolyn Lazard, Guillermo Gómez Peña, Simone Leigh, Mujeres Creando, Park McArthur, Pedro Neves Marques Las Pekinesas, Dineo Seshee Bopape, Jo Spence, Patrick Staff, Christine Sun Kim, Pedro Reyes, Tabita Rezaire
Writers include
Aimar Arriola & Nanci Garín, Khairani Barokka, Clare Barlow, Dodie Bellamy, Rizvana Bradley,  Anne Boyer,  Eli Clare, John Foot, bell hooks, Ted Kerr & Alexandra Juhasz, Tarmar Guimarāes, Sunil Gupta & Simon Watney, Bhanu Kapil, Eve Kosofsky Sedgwick, Audre Lorde, Peter Pál Pelbart, Maria Puig de la Bellacasa, Susan Sontag, R.D. Laing, Catalina Lozano, Audre Lorde, Robert McRuer, Naomi Pearce, Paul B. Preciado, Sud Rodney, James T. Hong, Mary Walling Blackburn, Danielle Wu
Copublished with Whitechapel Gallery, London
The MIT Press, 9780262539463, 240pp.
Publication Date: December 8, 2020
About the Author
Bárbara Rodríguez Muñoz is a writer and Curator of Temporary Exhibitions at Wellcome Collection, London. Her exhibitions include Jo Spence and Oreet Ashery: Misbehaving Bodies (cocurated with George Vasey, 2019–20). She has written for Afterall, Concreta, Les Laboratoires d'Aubervilliers, and Mousse Publishing.