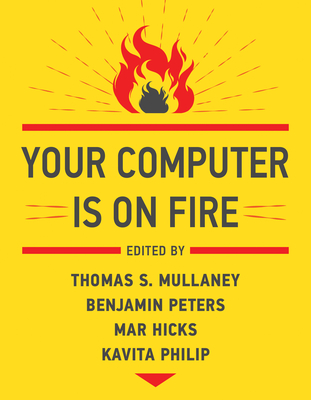 Your Computer Is on Fire
Paperback

* Individual store prices may vary.
Description
Technology scholars declare an emergency: attention must be paid to the inequality, marginalization, and biases woven into our technological systems.

This book sounds an alarm: we can no longer afford to be lulled into complacency by narratives of techno-utopianism, or even techno-neutrality. We should not be reassured by such soothing generalities as "human error," "virtual reality," or "the cloud." We need to realize that nothing is virtual: everything that "happens online," "virtually," or "autonomously" happens offline first, and often involves human beings whose labor is deliberately kept invisible. Everything is IRL. In Your Computer Is on Fire, technology scholars train a spotlight on the inequality, marginalization, and biases woven into our technological systems.
Praise For Your Computer Is on Fire…
Strategy & Business Best Business Books 2021, Tech & Innovation

"An all-star collection of readable and complex stories, all aimed at ensuring the naive view of neutral technology gets buried and, please, left in the past." —Public Books

"The collection of impactful tech issues interrogated over the span of decades in this book makes it recommended reading for anyone interested in the impact of tech policy in businesses and governments, as well as people deploying AI or interested in the way people shape technology."
—VentureBeat

"Technology is so embedded in our lives that we can sometimes forget it is there at all. Your Computer is on Fire is a vital reminder not only of its presence, but that we urgently need to extinguish the problems associated with it."
—New Scientist

"The book tech critics and organizers have been waiting for."
—Los Angeles Review of Books

"The authors fearlessly dismantle the technology industry's most sacred assumptions, forcing a rethinking of everything we've come to accept as true about our digital lives and the multibillion-dollar digital transformations going on inside our companies. Titles such as 'Gender Is a Corporate Tool,' 'A Network Is Not a Network,' and 'Coding Is Not Empowerment' pull no punches."—Strategy & Business

"A compelling case for the value of the humanities – and of history, in particular – in offering us a critical perspective to challenge the fantasies of genius innovators and streamlined progress."—Times Literary Supplement
The MIT Press, 9780262539739, 416pp.
Publication Date: March 9, 2021
About the Author
Thomas S. Mullaney is Professor of History at Stanford University and the author of Coming to Terms with the Nation: Ethnic Classification in Modern China.

Benjamin Peters is Associate Professor in the Department of Communication at the University of Tulsa and affiliated faculty at the Information Society Project at Yale Law School.

Mar Hicks is Associate Professor of History at Illinois Institute of Technology.

Kavita Philip studies colonialism, neoliberalism, and technoscience using history and critical theory. She is an Associate Professor at the University of California, Irvine.