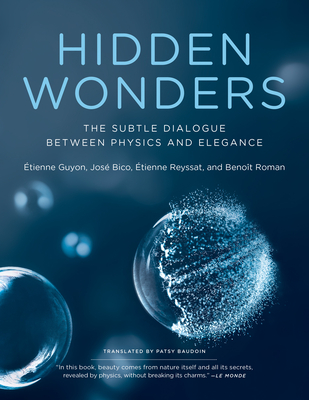 Hidden Wonders
The Subtle Dialogue Between Physics and Elegance
Paperback

* Individual store prices may vary.
Description
The hidden elegance in everyday objects and physical mechanisms, from crumpled paper to sandcastles.

Hidden Wonders focuses on the objects that populate our everyday life--crumpled paper, woven fabric, a sand pile--but looks at them with a physicist's eye, revealing a hidden elegance in mundane physical mechanisms. In six chapters--Builders, Creating Shapes, Building with Threads, From Sand to Glass, Matter in Motion, and Fractures--the authors present brief stories, set in locales ranging from the Eiffel Tower to a sandcastle, that illustrate the little wonders hidden in the ordinary. A simple experiment that readers can perform at home concludes each story. More than 200 illustrations bring the stories to life.
Praise For Hidden Wonders: The Subtle Dialogue Between Physics and Elegance…
"Hidden Wonders fills a major gap in popular science books. Guyon and co-authors convey to their readers a modern and interdisciplinary approach to physics in a style rarely seen in the genre — with special homage to recent developments in soft-matter physics and engineering sciences. Their effort is much needed, and we scientists should look to inspire the next generation, because there are still plenty of mysteries and wonders to be discovered." — Marcelo A. Dias, Nature Physics
The MIT Press, 9780262539890, 324pp.
Publication Date: February 23, 2021
About the Author
Étienne Guyon is Emeritus Professor at ESPCI (Paris Industrial Physics and Chemistry Higher Educational Institution), a fellow of the American Physical society and of the Institute of Physics, Honorary Director of the Ecole Normale Supérieure, and coauthor of Built on Sand: The Science of Granular Materials (MIT Press). José Bico is Associate Professor at ESPCI-PSL (Paris Science Lettres Université). Etienne Reyssat and Benoît Roman are CNRS researchers. All authors work at PMMH (Physics and Mechanics of Heterogenous Media) lab of ESPCI-PSL in Sorbonne Université.