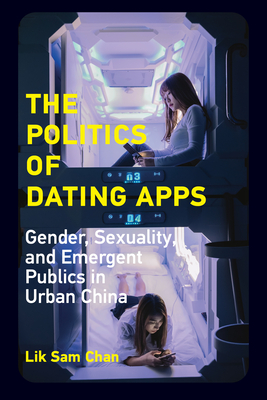 The Politics of Dating Apps
Gender, Sexuality, and Emergent Publics in Urban China (The Information Society Series)
Paperback

* Individual store prices may vary.
Description
An examination of dating app culture in China, across user demographics--straight women, straight men, queer women, and queer men.

In this exploration of dating app culture in China, Lik Sam Chan argues that these popular mobile apps are not merely a platform for personal relationships but also an emerging arena for gender and queer politics. Chan examines the opportunities dating apps present for women's empowerment and men's performances of masculinity, and he links experiences of queer dating app users with their vulnerable position as sexual minorities. He finds that dating apps are both portals to an exciting virtual world of relational possibilities and sites of power dynamics that reflect the heteronormativity and patriarchy of Chinese society.
Praise For The Politics of Dating Apps: Gender, Sexuality, and Emergent Publics in Urban China (The Information Society Series)…
"Chan's innovative research connects everyday digital media uses to China's larger issues of gender, sexual, and queer politics. Taking neither a utopian nor a pessimistic stance, he unpacks the multiplicity of dating apps' political and social effects on both marginalized groups and those in power. More importantly, this study precipitates further questions about dating apps' potential to challenge heteronormativity, and to create space for marginalized individuals, in a society with shrinking room for feminist and queer politics."—Current History
The MIT Press, 9780262542340, 208pp.
Publication Date: March 9, 2021
About the Author
Lik Sam Chan is Assistant Professor in the School of Journalism and Communication at the Chinese University of Hong Kong.