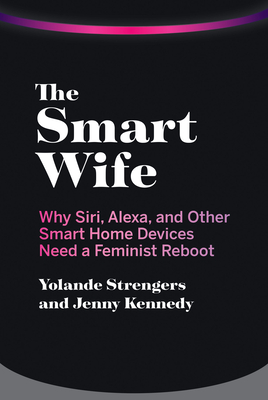 The Smart Wife
Why Siri, Alexa, and Other Smart Home Devices Need a Feminist Reboot
Paperback

* Individual store prices may vary.
Other Editions of This Title:
Hardcover (9/1/2020)
Description
The life and times of the Smart Wife--feminized digital assistants who are friendly and sometimes flirty, occasionally glitchy but perpetually available.

Meet the Smart Wife--at your service, an eclectic collection of feminized AI, robotic, and smart devices. This digital assistant is friendly and sometimes flirty, docile and efficient, occasionally glitchy but perpetually available. She might go by Siri, or Alexa, or inhabit Google Home. She can keep us company, order groceries, vacuum the floor, turn out the lights. A Japanese digital voice assistant--a virtual anime hologram named Hikari Azuma--sends her "master" helpful messages during the day; an American sexbot named Roxxxy takes on other kinds of household chores. In The Smart Wife, Yolande Strengers and Jenny Kennedy examine the emergence of digital devices that carry out "wifework"--domestic responsibilities that have traditionally fallen to (human) wives. They show that the principal prototype for these virtual helpers--designed in male-dominated industries--is the 1950s housewife: white, middle class, heteronormative, and nurturing, with a spick-and-span home. It's time, they say, to give the Smart Wife a reboot.

What's wrong with preferring domestic assistants with feminine personalities? We like our assistants to conform to gender stereotypes--so what? For one thing, Strengers and Kennedy remind us, the design of gendered devices re-inscribes those outdated and unfounded stereotypes. Advanced technology is taking us backwards on gender equity. Strengers and Kennedy offer a Smart Wife "manifesta," proposing a rebooted Smart Wife that would promote a revaluing of femininity in society in all her glorious diversity.
Praise For The Smart Wife: Why Siri, Alexa, and Other Smart Home Devices Need a Feminist Reboot…
"Provocative and engaging! The Smart Wife is a timely and wideranging examination of smart home technology and the Internet of Things that is sure to draw you in."
– Genevieve Bell, Distinguished Professor and 3A Institute Director, Australian National University; Senior Fellow, Intel Corporation

"Many readers may have wondered why their virtual assistants speak in female voices. Strengers and Kennedy document the many ways in which the same old gender stereotypes and inequalities have shaped wouldbe futuristic technologies — and ask whether a better smart home could be built to address our crises of care."
– Moira Weigel, Founding Editor of Logic magazine

"I thoroughly enjoyed this book. It's full of insight with some jaw-dropping moments and really thoughtful research. The pace of technology really does require smart humans to keep an eye on it all and that is exactly what the authors have done."  
– Annabel Crabb, writer and presenter, ABC (Australian Broadcasting Commission)

"This fascinating exploration of AI asks what the assignment of gender of its devices says about the societies they are meant to help."
– Shelf Awareness

"Alternating humor with cogent analysis, this book presents a thoughtful reflection on virtual assistants and their increasingly pervasive role in society... [The Smart Wife] provides an illuminating exploration of past technologies and a useful road map for the future."
– Choice
The MIT Press, 9780262542791, 320pp.
Publication Date: August 31, 2021
About the Author
Yolande Strengers is Associate Professor of Digital Technology and Society in the Emerging Technologies Research Lab at Monash University, Melbourne. Jenny Kennedy is a Postdoctoral Research Fellow in the School of Media and Communication at RMIT University, Melbourne.
or
Not Currently Available for Direct Purchase