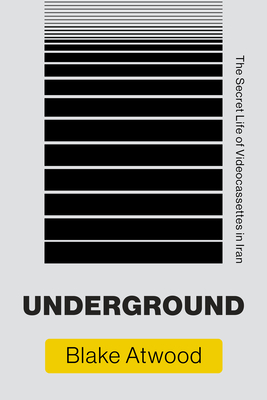 Underground
The Secret Life of Videocassettes in Iran (Infrastructures)
Paperback

* Individual store prices may vary.
Description
How Iranians forged a vibrant, informal video distribution infrastructure when their government banned all home video technology in 1983.

In 1983, the Iranian government banned the personal use of home video technology. In Underground, Blake Atwood recounts how in response to the ban, technology enthusiasts, cinephiles, entrepreneurs, and everyday citizens forged an illegal but complex underground system for video distribution. Atwood draws on archival sources including trade publications, newspapers, memoirs, films, and laws, but at the heart of the book lies a corpus of oral history interviews conducted with participants in the underground. He argues that videocassettes helped to institutionalize the broader underground within the Islamic Republic.

As Atwood shows, the videocassette underground reveals a great deal about how people construct vibrant cultures beneath repressive institutions. It was not just that Iranians gained access to banned movies, but rather that they established routes, acquired technical knowledge, broke the law, and created rituals by passing and trading plastic videocassettes. As material objects, the videocassettes were a means of negotiating the power of the state and the agency of its citizens. By the time the Ministry of Culture and Islamic Guidance lifted the ban in 1994, millions of videocassettes were circulating efficiently and widely throughout the country. The very presence of a video underground signaled the failure of state policy to regulate media. Embedded in the informal infrastructure--even in the videocassettes themselves--was the triumph of everyday people over the state.
Praise For Underground: The Secret Life of Videocassettes in Iran (Infrastructures)…
"Underground by Blake Atwood offers a history of the elusive ultimate chapter in the cultural life of the portable magnetic record in Iran: the informal trade in videocassettes that shaped the experience of moving-image media for a generation. The work is truly innovative in the way it reveals a practice that is not easy to track."
—Technology and Culture
The MIT Press, 9780262542845, 264pp.
Publication Date: September 28, 2021
About the Author
Blake Atwood is Associate Professor of Media Studies at the American University of Beirut and the author of Reform Cinema in Iran: Film and Political Change in the Islamic Republic.
or
Not Currently Available for Direct Purchase