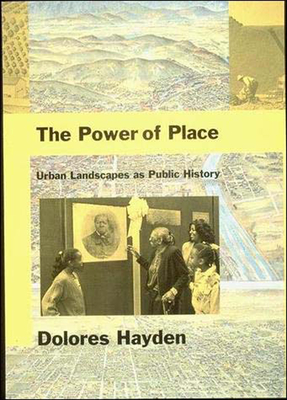 The Power of Place
Urban Landscapes as Public History
Paperback

* Individual store prices may vary.
Description
Based on her extensive experience in the urban communities of Los Angeles, historian and architect Dolores Hayden proposes new perspectives on gender, race, and ethnicity to broaden the practice of public history and public art, enlarge urban preservation, and reorient the writing of urban history to spatial struggles.
In the first part of The Power of Place, Hayden outlines the elements of a social history of urban space to connect people's lives and livelihoods to the urban landscape as it changes over time. She then explores how communities and professionals can tap the power of historic urban landscapes to nurture public memory.
The second part documents a decade of research and practice by The Power of Place, a nonprofit organization Hayden founded in downtown Los Angeles. Through public meetings, walking tours, artists's books, and permanent public sculpture, as well as architectural preservation, teams of historians, designers, planners, and artists worked together to understand, preserve, and commemorate urban landscape history as African American, Latina, and Asian American families have experienced it.
One project celebrates the urban homestead of Biddy Mason, an African American ex-slave and midwife active betwen 1856 and 1891. Another reinterprets the Embassy Theater where Rose Pesotta, Luisa Moreno, and Josefina Fierro de Bright organized Latina dressmakers and cannery workers in the 1930s and 1940s. A third chapter tells the story of a historic district where Japanese American family businesses flourished from the 1890s to the 1940s. Each project deals with bitter memories—slavery, repatriation, internment—but shows how citizens survived and persevered to build an urban life for themselves, their families, and their communities.
Drawing on many similar efforts around the United States, from New York to Charleston, Seattle to Cincinnati, Hayden finds a broad new movement across urban preservation, public history, and public art to accept American diversity at the heart of the vernacular urban landscape. She provides dozens of models for creative urban history projects in cities and towns across the country.
Praise For The Power of Place: Urban Landscapes as Public History…
The Power of Place is a well-timed, well-reasoned call forfusing history and the environment to create a more democratic andinclusive interpretation of the places in which most of us live andwork. Ms. Hayden greatly strengthens preservation with arguments that give the historic environment a critical dimension beyond beauty and rarity.—The New York Times Book Review—
The MIT Press, 9780262581523, 316pp.
Publication Date: February 24, 1997
or
Not Currently Available for Direct Purchase