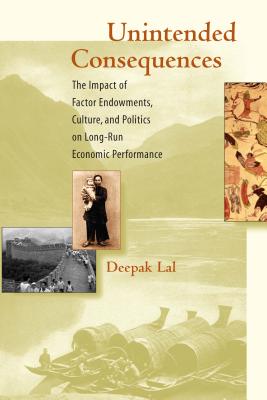 Unintended Consequences
The Impact of Endowments, Culture, and Politics on Long-Run Economic Performance (Ohlin Lectures)
Paperback

* Individual store prices may vary.
Description
In this book, based on the 1995 Ohlin Lectures, Deepak Lal provides an accessible, interdisciplinary account of the role of culture in shaping economic performance. Topics addressed include a possible future clash of civilizations, the role of Asian values in the East Asian economic miracle, the cultural versus economic causes of social decay in the West, and whether modernization leads to Westernization. Lal makes an important distinction between material and cosmological beliefs, showing how both were initially shaped by factor endowments and how they have evolved in response to changing historical pressures in different civilizations. Lal's first major theme is the interaction of factor endowments, culture, and politics in explaining modern intensive growth in the West. The other major theme is the role of individualism--an inadvertent legacy of the medieval Catholic Church--in promoting this growth, and the strange metamorphoses this has caused in both the West's cosmological beliefs and the interaction between the West and the rest. Lal takes account of the relevant literature in history, anthropology, social psychology, evolutionary biology, neurology, and sociology, and the economic history of the regions and cultures that form Eurasia. An appendix shows how the stories Lal tells can be described by four formal economic models.
MIT Press, 9780262621540, 304pp.
Publication Date: July 27, 2001
About the Author
Deepak Lal is the James S. Coleman Professor of International Development Studies at the University of California, Los Angeles.
or
Not Currently Available for Direct Purchase