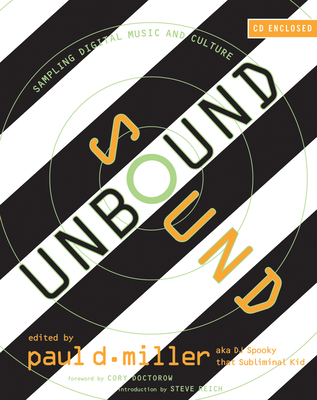 Sound Unbound (Paperback)
Sampling Digital Music and Culture
MIT Press, 9780262633635, 416pp.
Publication Date: May 1, 2008
* Individual store prices may vary.
Description
The role of sound and digital media in an information-based society: artists--from Steve Reich and Pierre Boulez to Chuck D and Moby--describe their work.
If Rhythm Science was about the flow of things, Sound Unbound is about the remix--how music, art, and literature have blurred the lines between what an artist can do and what a composer can create. In Sound Unbound, Rhythm Science author Paul Miller aka DJ Spooky that Subliminal Kid asks artists to describe their work and compositional strategies in their own words. These are reports from the front lines on the role of sound and digital media in an information-based society. The topics are as diverse as the contributors: composer Steve Reich offers a memoir of his life with technology, from tape loops to video opera; Miller himself considers sampling and civilization; novelist Jonathan Lethem writes about appropriation and plagiarism; science fiction writer Bruce Sterling looks at dead media; Ron Eglash examines racial signifiers in electrical engineering; media activist Naeem Mohaiemen explores the influence of Islam on hip hop; rapper Chuck D contributes "Three Pieces"; musician Brian Eno explores the sound and history of bells; Hans Ulrich Obrist and Philippe Parreno interview composer-conductor Pierre Boulez; and much more. "Press 'play, '" Miller writes, "and this anthology says 'here goes.'"
The groundbreaking music that accompanies the book features Nam Jun Paik, the Dada Movement, John Cage, Sonic Youth, and many other examples of avant-garde music. Most of this content comes from the archives of Sub Rosa, a legendary record label that has been the benchmark for archival sounds since the beginnings of electronic music. To receive these free music files, readers may send an email to the address listed in the book.
Contributors
David Allenby, Pierre Boulez, Catherine Corman, Chuck D, Erik Davis, Scott De Lahunta, Manuel DeLanda, Cory Doctorow, Eveline Domnitch, Frances Dyson, Ron Eglash, Brian Eno, Dmitry Gelfand, Dick Hebdige, Lee Hirsch, Vijay Iyer, Ken Jordan, Douglas Kahn, Daphne Keller, Beryl Korot, Jaron Lanier, Joseph Lanza, Jonathan Lethem, Carlo McCormick, Paul D. Miller aka DJ Spooky that Subliminal Kid, Moby, Naeem Mohaiemen, Alondra Nelson, Keith and Mendi Obadike, Hans Ulrich Obrist, Pauline Oliveros, Philippe Parreno, Ibrahim Quaraishi, Steve Reich, Simon Reynolds, Scanner aka Robin Rimbaud, Nadine Robinson, Daniel Bernard Roumain (DBR), Alex Steinweiss, Bruce Sterling, Lucy Walker, Saul Williams, Jeff E. Winner
About the Author
Paul D. Miller, aka DJ Spooky, That Subliminal Kid, is a composer, multimedia artist, and writer. He is the author of Rhythm Science and Sound Unbound, both published by the MIT Press.
or
Not Currently Available for Direct Purchase