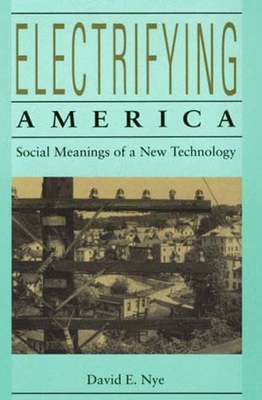 Electrifying America
Social Meanings of a New Technology, 1880-1940
Paperback

* Individual store prices may vary.
Description
How did electricity enter everyday life in America? Using Muncie, Indiana—the Lynds' now iconic Middletown—as a touchstone, David Nye explores how electricity seeped into and redefined American culture. With an eye for telling details from archival sources and a broad understanding of cultural and social history, he creates a thought-provoking panorama of a technology fundamental to modern life.
Emphasizing the experiences of ordinary men and women rather than the lives of inventors and entrepreneurs, Nye treats electrification as a set of technical possibilities that were selectively adopted to create the streetcar suburb, the amusement park, the "Great White Way," the assembly line, the electrified home, and the industrialized farm. He shows how electricity touched every part of American life, how it became an extension of political ideologies, how it virtually created the image of the modern city, and how it even pervaded colloquial speech, confirming the values of high energy and speed that have become hallmarks of the twentieth century. He also pursues the social meaning of electrification as expressed in utopian ideas and exhibits at world's fairs, and explores the evocation of electrical landscapes in painting, literature, and photography. Electrifying America combines chronology and topicality to examine the major forms of light and power as they came into general use. It shows that in the city electrification promoted a more varied landscape and made possible new art forms and new consumption environments. In the factory, electricity permitted a complete redesign of the size and scale of operations, shifting power away from the shop floor to managers. Electrical appliances redefined domestic work and transformed the landscape of the home, while on the farm electricity laid the foundation for today's agribusiness.
Praise For Electrifying America: Social Meanings of a New Technology, 1880-1940…
David Nye casts his bright light on everything from assembly lines to washing machines, from the plummeting price of urban electricity to the usefulness of electric incubators in chicken farming...Mr. Nye succeeds not simply because he knows his technology, but also because be understands the complexity of American culture...[He] has the breadth of knowledge and the good sense to see the significance in paintings like Edward Hopper's 'Nighthawks'...and to weave such observations into the very armature of his argument that electricity transformed not only American life but the American self.—John R. Stilgoe, New York Times Book Review—
The MIT Press, 9780262640305, 496pp.
Publication Date: July 8, 1992
About the Author
David E. Nye is Senior Research Fellow at the Charles Babbage Institute and the History of Science and Technology program at the University of Minnesota and Professor Emeritus of American Studies at the University of Southern Denmark. His other books published by the MIT Press include Electrifying America and American Technological Sublime. He was awarded the Leonardo da Vinci Medal in 2005 and was knighted by the Queen of Denmark in 2013.