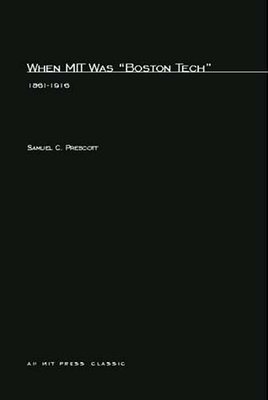 When MIT Was Boston Tech
1861-1916 (MIT Press Classics)
Paperback

* Individual store prices may vary.
Description
This book is more than formal history. It is a personal report, an essay in interpretation and remembrance which is important both for what it tells about MIT's first half-century and for what it tells about what Dean Prescott found important and interesting in that half-century.Dean Prescott was associated with the Institute for nearly two thirds of a century. He knew the Institute from the vantage points of student, teacher, department head, dean, alumnus, and parent. He had a formative influence on its policy-making and was an articulate protagonist of the Institute's program and policies. He viewed MIT's formative years not only with an expert's understanding but out of a deep sense of loyalty and devotion. This book is a testament of faith in an institution, an earnest statement of the author's abiding belief in the staff, students, and alumni he has known. Dean Prescott's account begins four years before the first instruction was given on February 20, 1865 at Boston Tech in the vicinity of Copley Square, Boston and concludes with the Institute's establishment in Cambridge in 1916.
MIT Press, 9780262661393, 384pp.
Publication Date: March 17, 2003