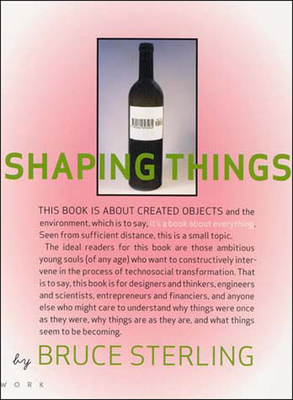 Shaping Things (Mediaworks Pamphlets)
Paperback

* Individual store prices may vary.
Description
A guide to the next great wave of technology--an era of objects so programmable that they can be regarded as material instantiations of an immaterial system.
Shaping Things is about created objects and the environment, which is to say, it's about everything, writes Bruce Sterling in this addition to the Mediawork Pamphlet series. He adds: Seen from sufficient distance, this is a small topic.
Sterling offers a brilliant, often hilarious history of shaped things. We have moved from an age of artifacts, made by hand, through complex machines, to the current era of gizmos. New forms of design and manufacture are appearing that lack historical precedent, he writes; but the production methods, using archaic forms of energy and materials that are finite and toxic, are not sustainable. The future will see a new kind of object; we have the primitive forms of them now in our pockets and briefcases: user-alterable, baroquely multi-featured, and programmable, that will be sustainable, enhanceable, and uniquely identifiable. Sterling coins the term spime for them, these future-manufactured objects with informational support so extensive and rich that they are regarded as material instantiations of an immaterial system. Spimes are designed on screens, fabricated by digital means, and precisely tracked through space and time. They are made of substances that can be folded back into the production stream of future spimes, challenging all of us to become involved in their production. Spimes are coming, says Sterling. We will need these objects in order to live; we won't be able to surrender their advantages without awful consequences.
The vision of Shaping Things is given material form by the intricate design of Lorraine Wild. Shaping Things is for designers and thinkers, engineers and scientists, entrepreneurs and financiers; and anyone who wants to understand and be part of the process of technosocial transformation.
MIT Press, 9780262693264, 149pp.
Publication Date: October 7, 2005
About the Author
Hugo Award-winning science fiction author and futurist Bruce Sterling has been called by Time perhaps the sharpest observer of our media-choked culture working today in any genre. Three of his novels have been New York Times Notable Books of the Year, and he has been a contributing writer for Wired since its conception. In 2005 he is Visionary-in-Residence at Art Center College of Design, Pasadena. Bruce Sterling's blog Beyond the Beyond has been active since 2003. Lorraine Wild is an award-winning designer, a founder of Greybull Press, and a member of the faculty at the California Institute of the Arts.
or
Not Currently Available for Direct Purchase