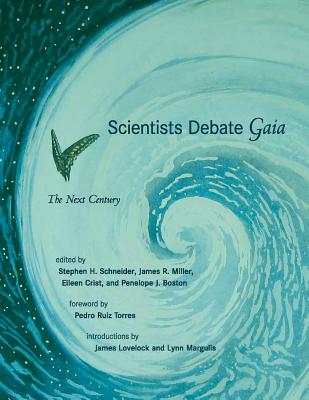 Scientists Debate Gaia
The Next Century
Paperback

* Individual store prices may vary.
Other Editions of This Title:
Hardcover (8/13/2004)
Description
Scientists Debate Gaia is a multidisciplinary reexamination of the Gaia hypothesis, which was introduced by James Lovelock and Lynn Margulis in the early 1970s. The Gaia hypothesis holds that Earth's physical and biological processes are linked to form a complex, self-regulating system and that life has affected this system over time. Until a few decades ago, most of the earth sciences viewed the planet through disciplinary lenses: biology, chemistry, geology, atmospheric and ocean studies. The Gaia hypothesis, on the other hand, takes a very broad interdisciplinary approach. Its most controversial aspect suggests that life actively participates in shaping the physical and chemical environment on which it depends in a way that optimizes the conditions for life. Despite initial dismissal of the Gaian approach as New Age philosophy, it has today been incorporated into mainstream interdisciplinary scientific theory, as seen in its strong influence on the field of Earth System Science. Scientists Debate Gaia provides a fascinating, multi-faceted examination of Gaia as science and addresses significant criticism of, and changes in, the hypothesis since its introduction.
In the book, 53 contributors explore the scientific, philosophical, and theoretical foundations of Gaia. They address such topics as the compatibility of natural selection and Gaian processes, Gaia and the thermodynamics of life, the role of computer models in Gaian science (from James Lovelock's famous but controversial Daisyworld to more sophisticated models that use the techniques of artificial life), pre-Socratic precedents for the idea of a Living Earth, and the climate of the Amazon Basin as a Gaian system.
MIT Press, 9780262693691, 377pp.
Publication Date: September 1, 2008
About the Author
James R. Miller is Professor of Earth System Science in the Department of Marine and Coastal Studies at Rutgers University.
or
Not Currently Available for Direct Purchase