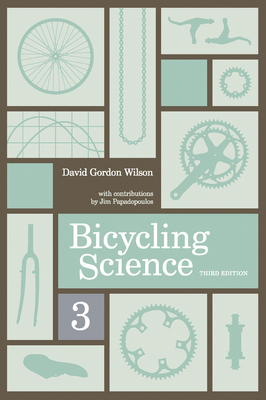 Bicycling Science, third edition
Paperback

* Individual store prices may vary.
Description
A new, updated edition of a popular book on the history, science, and engineering of bicycles.
The bicycle is almost unique among human-powered machines in that it uses human muscles in a near-optimum way. This new edition of the bible of bicycle builders and bicyclists provides just about everything you could want to know about the history of bicycles, how human beings propel them, what makes them go faster, and what keeps them from going even faster. The scientific and engineering information is of interest not only to designers and builders of bicycles and other human-powered vehicles but also to competitive cyclists, bicycle commuters, and recreational cyclists.
The third edition begins with a brief history of bicycles and bicycling that demolishes many widespread myths. This edition includes information on recent experiments and achievements in human-powered transportation, including the "ultimate human- powered vehicle," in which a supine rider in a streamlined enclosure steers by looking at a television screen connected to a small camera in the nose, reaching speeds of around 80 miles per hour. It contains completely new chapters on aerodynamics, unusual human-powered machines for use on land and in water and air, human physiology, and the future of bicycling. This edition also provides updated information on rolling drag, transmission of power from rider to wheels, braking, heat management, steering and stability, power and speed, and materials. It contains many new illustrations.
Praise For Bicycling Science, third edition…
Bicycling Science
...dispels the mythology that so commonly surrounds bicycle technology, while encouraging the passion riders feel for the sport...—
D.R.S.
,
American Scientist
—
...full of interesting material to ponder while pedaling down the road.
—
Jearl Walker
,
American Journal of Physics
—
This expanded and updated edition of a classic work offers a comprehensive introduction to bicycle technology...The information Wilson provides may be most appreciated by bicycle designers and builders, but is likely to interest anyone who competes, commutes, of just likes to have fun on two wheels.
—
Science
—
The MIT Press, 9780262731546, 485pp.
Publication Date: March 19, 2004
About the Author
David Gordon Wilson was Professor of Mechanical Engineering Emeritus at MIT. An acknowledged authority on human-powered transit and bicycle design—and the self-described "father of modern recumbents"—he was also a prolific inventor and an early advocate for a "carbon fee" to encourage the use of renewable energy.
or
Not Currently Available for Direct Purchase