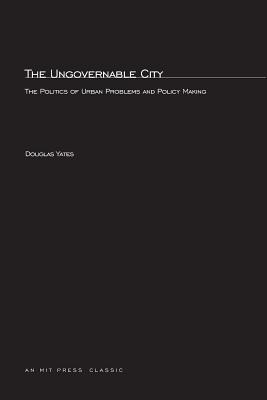 The Ungovernable City
The Politics of Urban Problems and Policy Making (Mit Studies in American Politics and Public Policy #3)
Paperback

* Individual store prices may vary.
Description
We confront an urban wilderness more formidable and resistant and in some ways more frightening than the wilderness faced by the pilgrims or the pioneers. What Robert Kennedy warned in 1966 is, ten years later, more starkly true than ever. As controversies about American cities rage, this critique takes a hard, unflattering look at the urban plight. Those who expect facile answers, utopian visions, or panaceas should, however, be cautioned: the book offers none. What it does offer is an interior view of urban policy making and an example of the most astute kind of policy study.Professor Yates argues that the urban policy-making system is no longer capable of producing coherent decisions, developing effective policies, or implementing programs. lack of money is not the underlying cause. The real culprit has to do with contradictions fundamental to cities as political and social entities. Historically, cities evolved as melting pots, developing haphazardly into loose structures composed of numerous antagonistic interests and forces. Urban management has largely consisted of hasty responses to crisis situations rather than long-range planning. City governments are at once too decentralized for overall policy making and too centralized to be truly responsive to its citizenry. By the same token they are both too independent of and too dependent on higher-level government (state, federal) for assistance.The basic function and distinctive feature of urban government is its service delivery. But here the system breaks down, for the mayor does not entirely control the administrators, and administrators cannot control the street-level employees--policemen, firemen, public school teachers. Fragmentation, instability--these are the result. The remedies are not simple and obvious, as Yates repeatedly makes clear. But if penetrating to the core of the problem is at all beneficial, The Ungovernable City is a step in the right direction.
Mit Press, 9780262740135, 219pp.
Publication Date: September 15, 1978
or
Not Currently Available for Direct Purchase