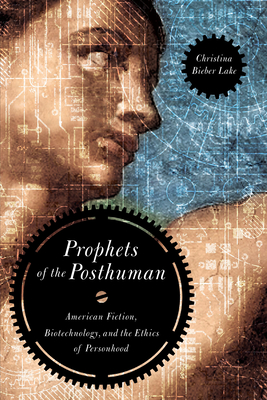 Prophets of the Posthuman (Paperback)
American Fiction, Biotechnology, and the Ethics of Personhood
University of Notre Dame Press, 9780268022365, 264pp.
Publication Date: August 25, 2014
* Individual store prices may vary.
Description
Prophets of the Posthuman provides a fresh and original reading of fictional narratives that raise the question of what it means to be human in the face of rapidly developing bioenhancement technologies. Christina Bieber Lake argues that works by Nathaniel Hawthorne, Walker Percy, Flannery O'Connor, Toni Morrison, George Saunders, Marilynne Robinson, Raymond Carver, James Tiptree, Jr., and Margaret Atwood must be reevaluated in light of their contributions to larger ethical questions. Drawing on a wide range of sources in philosophical and theological ethics, Lake claims that these writers share a commitment to maintaining a category of personhood more meaningful than that allowed by utilitarian ethics. Prophets of the Posthuman insists that because technology can never ask whether we should do something that we have the power to do, literature must step into that role.
Each of the chapters of this interdisciplinary study sets up a typical ethical scenario regarding human enhancement technology and then illustrates how a work of fiction uniquely speaks to that scenario, exposing a realm of human motivations that might otherwise be overlooked or simplified. Through the vision of the writers she discusses, Lake uncovers a deep critique of the ascendancy of personal autonomy as America's most cherished value. This ascendancy, coupled with technology's glamorous promises of happiness, helps to shape a utilitarian view of persons that makes responsible ethical behavior toward one another almost impossible. Prophets of the Posthuman charts the essential role that literature must play in the continuing conversation of what it means to be human in a posthuman world.--John Sykes, Wingate University.
About the Author
Christina Bieber Lake is professor of English at Wheaton College. She is the author of The Incarnational Art of Flannery O'Connor.