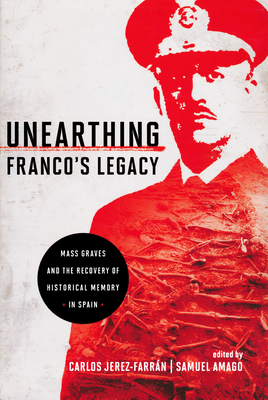 Unearthing Franco's Legacy: Mass Graves and the Recovery of Historical Memory in Spain (Paperback)
Mass Graves and the Recovery of Historical Memory in Spain
University of Notre Dame Press, 9780268032685, 394pp.
Publication Date: April 1, 2010
Description
"Unearthing Franco's Legacy: Mass Graves and the Recovery of Historical Memory in Spain "addresses the political, cultural, and historical debate that has ensued in Spain as a result of the recent discovery and exhumation of mass graves dating from the years during and after the Spanish Civil War (1936-39). The victor, General Francisco Franco, ruled as a dictator for thirty-six years, during which time he and his supporters had thousands of political dissidents or suspects and their families systematically killed and buried in anonymous mass graves. Although Spaniards living near the burial sites realized what was happening, the conspiracy of silence imposed by the Franco regime continued for many years after his death in 1975 and after the establishment of a democratic government.
While the people of Germany, France, and Italy have confronted the legacies of the repressive regimes that came to power in those countries during the 1920s, '30s, and '40s, the unearthing of the anonymous dead in Spain has focused attention on how Spaniards have only recently begun to revisit their past and publicly confront Franco's legacy. The essays by historians, anthropologists, literary scholars, journalists, and cultural analysts gathered here represent the first interdisciplinary analysis of how present-day Spain has sought to come to terms with the violence of Franco's regime. Their contributions comprise an important example of how a culture critiques itself while mining its collective memory.
"For anyone interested in understanding the lasting impact of the Spanish Civil War on contemporary society, "Unearthing Franco's Legacy "is required reading. The editors of this book have brought together, and placed in constructive dialogue, a comprehensive group of international authors whose contributions result in a sweeping and devastating account of the war's deep wounds on individual lives and collective histories. Meticulously studying Franco's policies, their impact on the war's victims, and representations of the war's stories, both those unearthed and others that continue to be buried, this book makes terribly clear that the Spanish Civil War and its memory continue to teach us lessons about the responsibility of scholarship in deciphering the complexities of the past." --Jordana Mendelson, New York University
""Unearthing Franco's Legacy"" "is a timely contribution to a subject that has provoked serious discussion both in Spain and abroad. The scholars and practitioners whose work is represented in this volume address the issue of historical memory from different disciplinary angles, and the interdisciplinarity of the approaches adds much to the book's value and to the debates that persist regarding this topic." -- David T. Gies, Commonwealth Professor of Spanish, University of Virginia
About the Author
Carlos Jerez-Farran is professor of Spanish and Samuel Amago is associate professor of Spanish, both at the University of Notre Dame. Contributors: Samuel Amago, Montse Armengou Martin, Julian Casanova, Ignacio Fernandez de Mata, Francisco Ferrandiz, Soledad Fox, Antonio Gomez Lopez-Quinones, Anne E. Hardcastle, Gina Herrmann, Carlos Jerez-Farran, Jo Labanyi, Paul Preston, Hilari Raguer Suner, Joan Ramon Resina, Michael Richards, Antonius C. G. M. Robben, and Giles Tremlett.
Advertisement