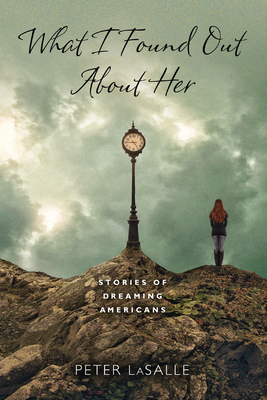 What I Found Out about Her: Stories of Dreaming Americans (Paperback)
Stories of Dreaming Americans
University of Notre Dame Press, 9780268033927, 211pp.
Publication Date: August 25, 2014
Description
"What I Found Out About Her: Stories of Dreaming Americans," winner of the 2014 Richard Sullivan Prize in Short Fiction, reaffirms Peter LaSalle's reputation as one of the most startlingly original writers working in the short fiction genre today. In this collection of eleven stories, LaSalle explores how everyday life for manyan FBI agent, a study-abroad student, a drug dealer's chic girlfriend, a trio of Broadway playwrights, among otherscan often take on something much larger than that, almost the texture of a haunting dream. Marked by stylistic daring and a rare lyricism in language, this is intense, thoroughly moving fiction that probes the contemporary American psyche, portraying it in all its frequently painful sadness and also its brave and unflagging hope.
"I've always believed that as a short story writer Peter LaSalle has been in the same class as Donald Barthelme and Joyce Carol Oates in the avant-garde of American fiction writers, and now, reading his new collection, "What I Found Out About Her," I am more than confirmed in that belief: indeed, his sophisticated and highly controlled formal experimentation, which is the sparkling core of his style, now flows with such masterly ease that he can be said to be in a class of his own, at the forefront of American creators of original prose." Zulfikar Ghose, author of "The Triple Mirror of the Self"
"Peter LaSalle's stories, set in wonderfully various settingsBuenos Aires, New York, Paris, Chicagoare rich in their delineation of our private lives and loves, and in those moments in which, by ourselves or with others, we live most deeply. These haunting tales are shrewdly original, disarmingly complex, andalways, always, since LaSalle is one of our finest storytellersas beautifully crafted as they are memorable. Jay Neugeboren, author of "You Are My Heart and Other Stories.
About the Author
Peter LaSalle a member of the creative writing faculty at the University of Texas at Austin.
Advertisement