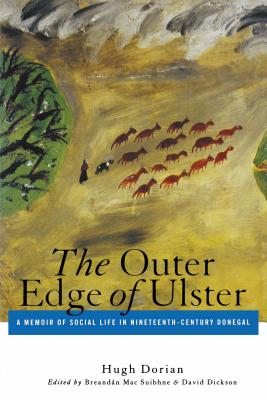 Outer Edge of Ulster
A Memoir of Social Life in Nineteenth-Century Donegal
Paperback

* Individual store prices may vary.
Other Editions of This Title:
Hardcover (9/25/2001)
Description
Hugh Dorian was born in poverty in rural Donegal in 1834. He survived Ireland's Great Famine, only to squander uncommon opportunities for self-advancement. Having lost his job and clashed with priests and policemen, he moved to the city of Derry but never slipped the shadow of trouble. Three of his children died from disease and his wife fell drunk into the River Foyle and drowned. Dorian declined into alcohol-numbed poverty and died in an overcrowded slum in 1914. A unique document survived the tragedy of Dorian's life. In 1890 he completed a "true historical narrative" of the social and cultural transformation of his home community. This narrative forms the most extensive lower-class account of the Great Famine. A moving account of the lives of ordinary people in extraordinary circumstances, it invites comparison with the classic slave narratives of Frederick Douglass and Harriet Jacobs. Dorian achieves a degree of totality in his reconstruction of the world of the pre-Famine poor that is unparalleled in contemporary memoir or fiction. He describes their working and living conditions, sports and drinking, religious devotions and festivals. And then he describes the catastrophe that obliterated that world. Horror is remembered vividly but with restraint: "in a very short time there was nothing but stillness; a mournful silence in the villages; in the cottages grim poverty and emaciated faces showing all the signs of hardships." The picture of starvation is stark but authentic: "the cheek bones became thin and high, the cheeks blue, the bones sharp, and the eyes sunk . . .. the legs and the feet swell and get red and the skin cracks . . .". And at last came "the dispersion . . . to places which their fathers never heard of and which they themselves never would have seen, had the times not changed." No one, he writes, "can measure the distance of the broad Atlantic speedier and better than a father whose child is there." A sense of loss, closer to bereavement than nostalgia, is threaded through the text: it is a lament for the might have been -- the future as imagined before the Famine -- rather than the actual past. The final and lasting image is of trauma without recovery: the wise-men who had sat late into the small hours debating politics in the years before the Famine congregated in the after years but sat now in silence "their subjects . . . lacking words." Dorian's narrative was never published in his own lifetime and all but forgotten after the author's death. First published in Ireland in August 2000, The Outer Edge of Ulster includes a scholarly introduction that traces the troubles that beset the author and locates the narrative in wider literary contexts. Appearing for the first time in America, this critically acclaimed book offers an intimate look at the everyday lives of ordinary people facing extraordinary challenges.
University of Notre Dame Press, 9780268037116, 358pp.
Publication Date: September 15, 2001