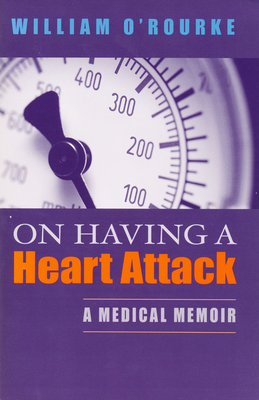 On Having a Heart Attack (Paperback)
A Medical Memoir
University of Notre Dame Press, 9780268037260, 168pp.
Publication Date: April 8, 2006
* Individual store prices may vary.
Description
"As I walked away with my refreshments, I felt something peculiar. It was so strange it stopped me mid-step. I was forty-five years old, and I had felt many things, but never before this particular feeling: I felt a click deep inside. The image the sensation produced in my mind was of a BB, a small round piece of copper-colored lead, falling into a socket. It was a very clear image. A BB is tiny, but the one I imagined felt infinitesimal, microscopic. Yet I felt it, a click, metal on metal--like an expensive, microscopic gear had slipped, some exquisite piece of machinery falling out of alignment. Some medieval example of craftsmanship, a gyroscope, something intricate, needing fine balance. The feeling, the event, was located in my chest, below my left breast. It was thoroughly interior, as if a signal had been sent and registered, what those giant satellite dishes are poised waiting for, a transmission from deep space." -- from Chapter 1 That was October 26, 1991, in what became a singularly awful day in the life of William O'Rourke. Minutes later, at the beginning of a Notre Dame football game, he began to suffer his heart attack. O'Rourke's account of that day, and everything that followed, is personal, informative, humorous, and highly literate. With its extended description of what an MI feels like and how people around the patient react, his memoir provides a bedside view of his experience and all of the emotions--both extraordinary and quotidian--that accompanied it. What is startling is how that momentous event, the heart attack, divides life irretrievably into a "before" and "after." Gone are the assumptions of what is safe and healthy; replacing them is a newly-forged relation of mind and body, a treacherous one which breeds a physical paranoia that only lessens after months. O'Rourke vividly describes the extreme pain of the attack, the forced inactivity of recuperation, and the melancholy of embracing life anew while accepting a heightened awareness of mortality. He knows his luck in having supportive family and friends, and uses his time away from normal routine to examine his family history for likely genetic proclivities for heart disease. Through his description of his experience--from MI, to angioplasty, to cardiac catheterization to, fourteen years later, a quintuple bypass and a second round of cardio-rehabilitation--he asks us to change behaviors we can affect and pay attention to our health. It does, after all, come down to this: "Here's to life." Enriched with a medical glossary and selected bibliography, this is a helpful compendium for other recuperating patients and their families, or anyone concerned about heart disease, or interested in memoir.
About the Author
William O'Rourke is the author of numerous books, including, among others, The Harrisburg 7 and the New Catholic Left, and the novels The Meekness of Isaac and Idle Hands. He is professor of English at the University of Notre Dame and the director of its graduate creative writing program.