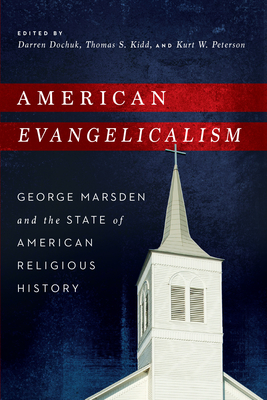 American Evangelicalism
George Marsden and the State of American Religious History
Hardcover

* Individual store prices may vary.
Other Editions of This Title:
Paperback (10/15/2014)
Description
No living scholar has shaped the study of American religious history more profoundly than George M. Marsden. His work spans U.S. intellectual, cultural, and religious history from the seventeenth through the twenty-first centuries. This collection of essays uses the career of George M. Marsden and the remarkable breadth of his scholarship to measure current trends in the historical study of American evangelical Protestantism and to encourage fresh scholarly investigation of this faith tradition as it has developed between the eighteenth century and the present. Moving through five sections, each centered around one of Marsden's major books and the time period it represents, the volume explores different methodologies and approaches to the history of evangelicalism and American religion. Besides assessing Marsden's illustrious works on their own terms, this collection's contributors isolate several key themes as deserving of fresh, rigorous, and extensive examination. Through their close investigation of these particular themes, they expand the range of characters and communities, issues and ideas, and contingencies that can and should be accounted for in our historical texts. Marsden's timeless scholarship thus serves as a launchpad for new directions in our rendering of the American religious past.
University of Notre Dame Press, 9780268038427, 536pp.
Publication Date: October 15, 2014
About the Author
Darren Dochuk is associate professor in the John C. Danforth Center on Religion and Politics and the Department of History at Washington University in St. Louis.ThomasKurtThomas S. Kidd is professor of history at Baylor University.Kurt W. Peterson is director of development, Office of Advancement, Loyola University Chicago.