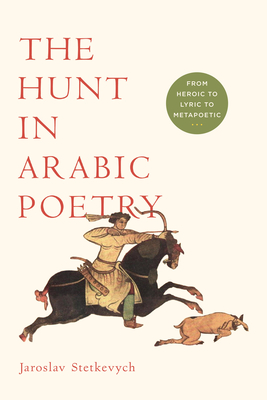 The Hunt in Arabic Poetry (Paperback)
From Heroic to Lyric to Metapoetic
University of Notre Dame Press, 9780268041519, 368pp.
Publication Date: December 20, 2015
* Individual store prices may vary.
Description
Among the world's major literary traditions, Arabic poetry is perhaps unique in that the theme of the hunt runs in a continuous, if uneven, current from the pre-Islamic, oral tradition, dating as far back as the fifth century CE, through the coming of Islam in the seventh century and the Umayyad and 'Abbasid caliphates, ultimately serving as a classical substrate for the radical Modernism of the twentieth century. This striking continuity of theme and motif of the pursuer--the hunter, companions, his steed, hounds, or falcon--and the pursued, whether the prey be oryx, onager, gazelle, hare, quail, or fox, is subject to dramatic transformations of poetic genre, structure, and sensibility throughout the arc of Arab cultural history. Through elegant translations and compelling interpretations, Jaroslav Stetkevych brings this dynamic Arabic tradition fully into the purview of contemporary cultural and humanistic studies. In the chapters of Part I of The Hunt in Arabic Poetry, Stetkevych explores the divergent themes of the heroic and the anti-heroic hunter within the grand genre of archaic Arabic odes and its transformation with the transition to Islam to a poetics of sacrifice and redemption. Part II traces the emergent aesthetics of the free-standing hunt lyric within the courtly culture of the Umayyad and 'Abbasid caliphates and the transition from description to imagism, concluding with the appearance of the long narrative hunt poem. Part III moves to the high Modernism of twentieth-century Arab free-verse poets and with it the reemergence of the classical theme of the hunt, now as a metaphor for the Modernist poet's metapoetic pursuit of the poem itself.
About the Author
Jaroslav Stetkevych is professor emeritus of Arabic literature at the University of Chicago.