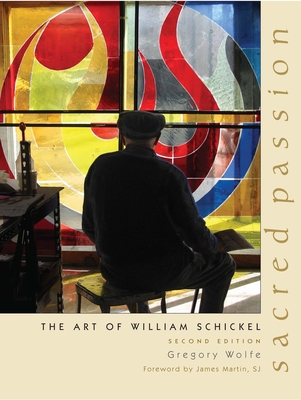 Sacred Passion (Hardcover)
The Art of William Schickel
University of Notre Dame Press, 9780268044176, 218pp.
Publication Date: July 15, 2010
* Individual store prices may vary.
Description
In the second edition of Sacred Passion, biographer Gregory Wolfe chronicles the artistic career of William Schickel (1919-2009) in the years since the original 1998 publication of this book by the University of Notre Dame Press. There are two new chapters, one on Schickel's recent contributions to the built environment in several communities, and the other on his recent paintings. There are 70 new color images, in addition to the 189 from the first edition, many of which have been replaced or enhanced.William Schickel was born in Stamford, Connecticut in 1919 and raised in Ithaca, New York. He graduated from the University of Notre Dame in 1944. His graduation project was the sculptural fountain "Living Water," now in the university's grotto. In a consistently productive career spanning more than six decades, Schickel has combined his skills as a sculptor, architectural designer, furniture designer, stained-glass artist, and painter with his deep personal faith to bring a healing vision to a number of American communities. In addition to his many paintings and ritual arts creations, Schickel's public works include the renovation of Gethsemani Abbey in Kentucky, for which he received the American Institute of Architects' Gold Medal Award; the Duchesne Memorial Shrine in St. Charles, Missouri; the Miami Valley Hospital Chapel in Dayton, Ohio; the "Rotunda of Creation" in the Cincinnati Center for Health and Wellness; the renovation of the Bellarmine Chapel in Cincinnati; the "Journeying with Christ" mural in the St. John Neumann Church in Canton, Michigan; and the Larry Hoffsis stained-glass window in the Epiphany Lutheran Church near Dayton, Ohio.Celebrating an artist of extraordinary faith, power, creativity, and dedication, the second edition of Sacred Passion is a tribute to William Schickel and his achievements."Here is an object--a book, a text, a generous portrait in images--which speaks as a sacramental does, revealed here in the chiasmic crossing between the contemporary and the ageless revealed in William Schickel's paintings, stained glass, sculpture and architecture, interwoven with the brilliance and sensitivity of Greg Wolfe's text hovering over those images. Insofar as a book can introduce us to the three- and four-dimensional world of the sacred, this is that book. Light, stone, earth, air, fire, and water: all fused here in the alembic of the contemporary Catholic imagination." --Paul Mariani, Boston College"One of my Franciscan Brothers used to say somewhat cynically to his high school students that art will not save your soul, but it can make your soul worth saving. I was reminded of these words in reading Gregory Wolfe's book on William Schickel. Wolfe's introduction to this important artist shows graphically how Schickel in all of his art, but especially in his public commissions, educates the heart by providing a sacred space where people are drawn together by the clean simplicity of his spaces and the images that he creates within those spaces. This is a book that itself educates the heart through its journey into the sacred passion of William Schickel." --Fr. Murray Bodo, OFM.
About the Author
Gregory Wolfe is writer in residence and director of the Master of Fine Arts program in creative writing at Seattle Pacific University. He is the founder and editor of IMAGE: A Journal of the Arts and Religion and the author of many books, including Bearing Mystery: Twenty Years of IMAGE.
Praise For Sacred Passion: The Art of William Schickel…
"A chronicle of the artistic career of Schickel (1919-2009), a 1944 graduate of Notre Dame whose Living Water sculpture graces the ND grotto. His work as a painter, sculptor, architectural and furniture designer, and stained-glass artist was informed by his devotion to God. This edition offers new chapters on the artist's recent contributions to the built environment in several communities and his recent paintings, as well as additional color images" --Notre Dame Magazine
or
Not Currently Available for Direct Purchase