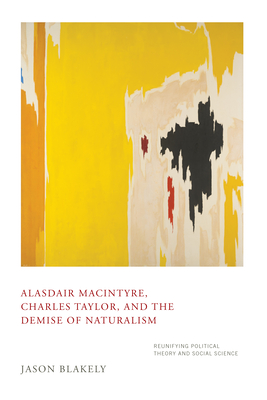 Alasdair Macintyre, Charles Taylor, and the Demise of Naturalism (Hardcover)
Reunifying Political Theory and Social Science
University of Notre Dame Press, 9780268100643, 136pp.
Publication Date: October 15, 2016
* Individual store prices may vary.
Description
Today the ethical and normative concerns of everyday citizens are all too often sidelined from the study of political and social issues, driven out by an effort to create a more "scientific" study. This book offers a way for social scientists and political theorists to reintegrate the empirical and the normative, proposing a way out of the scientism that clouds our age. In Alasdair MacIntyre, Charles Taylor, and the Demise of Naturalism, Jason Blakely argues that the resources for overcoming this divide are found in the respective intellectual developments of Charles Taylor and Alasdair MacIntyre. Blakely examines their often parallel intellectual journeys, which led them to critically engage the British New Left, analytic philosophy, phenomenology, continental hermeneutics, and modern social science. Although MacIntyre and Taylor are not sui generis, Blakely claims they each present a new, revived humanism, one that insists on the creative agency of the human person against reductive, instrumental, technocratic, and scientistic ways of thinking. The recovery of certain key themes in these philosophers' works generates a new political philosophy with which to face certain unprecedented problems of our age. Taylor's and MacIntyre's philosophies give social scientists working in all disciplines (from economics and sociology to political science and psychology) an alternative theoretical framework for conducting research.
About the Author
Jason Blakely is assistant professor of political science at Pepperdine University.