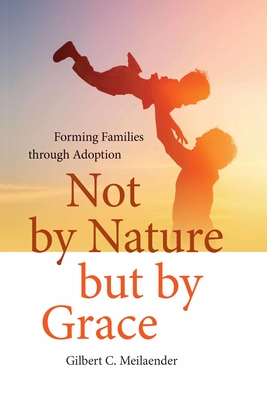 Not by Nature But by Grace: Forming Families Through Adoption (Hardcover)
Forming Families Through Adoption
University of Notre Dame Press, 9780268100681, 136pp.
Publication Date: September 15, 2016
Description
Working from within the contours of Christian faith, this book examines the relation between two ways of forming families--through nature (by procreation) and through history (by adoption). Christians honor the biological tie between parents and children, for it is the work of God in creation. Yet Christians cannot forget that it is adoption, and not simply natural descent, that is at the center of the New Testament's depiction of God's grace. Gilbert Meilaender takes up a range of issues raised by the practice of adoption, always seeking to do justice to both nature and history in the formation of families, while keeping at the center of our vision the truth that it is not by nature but by grace that we can become adopted children of the one whom Jesus called his Father. Meilaender begins with reflection on the puzzling relation of nature and history in forming families and proceeds to unpack the meaning of huiothesia, the word used in the New Testament to name the grace by which a follower of Jesus becomes an adopted child of God. That perspective is applied to a range of questions that regularly arise in Christian theological discussions of adoption: Is adoption only for the infertile? Should single persons adopt? Is it wise for adoption to take place across racial or national boundaries? Special attention is paid to the relation between adoption and new reproductive technologies and to what is called "embryo adoption." Interspersed between the chapters are letters written by the author to his own son by adoption. But if the argument of the book is taken seriously, these letters are written not to one who falls within a special category of "adopted son or daughter," but to one who is, simply and entirely, a son or daughter. "Gilbert Meilaender writes as a Christian, and he finds help in sorting through his perspective from Muslim and Jewish sources. His tone is patient (even when discussing arguments he finds wrongheaded) pulling out the best and the worst strands in questions regarding adoption, ART, and cryopreserved embryos. The chapters are informative and winsomely written. He has also notably managed to bring books I read to my daughters together with arcane theological documents that are relevant, but tricky to introduce." --Amy Laura Hall, Duke Divinity School "One of the great theological ethicists of our generation, Gil Meilaender has gifted us with a book that is absolutely essential reading for anyone whose life is touched by adoption and wants to make moral sense of it. Meilander's pithy, lucid style is perfect for conveying deep theological truths, and his arguments are consistently compelling and civil. Having lived a life with adopted children, Meilaender shows us deep and abiding wisdom on every page." --John Berkman, Regis College, University of Toronto "Readers of Meilaender's work have come to expect beautiful prose wedded to probing theological and ethical analysis. Both are in evidence in this engaging exploration of how adoption challenges Christians to understand the complex balancing of nature and history that is required for a proper understanding of family life. That Meilaender can weave together literature, philosophy, theology, and personal experience so seamlessly in developing his account of adoption is a marvel." --Paul Lauritzen, John Carroll University.
About the Author
Gilbert C. Meilaender is senior research professor at Valparaiso University and Paul Ramsey Fellow at the Notre Dame Center for Ethics and Culture. His books include Meditations on Christ's Words from the Cross, Should We Live Forever?: The Ethical Ambiguities of Aging, and Neither Beast Nor God: The Dignity of the Human Person.
Advertisement