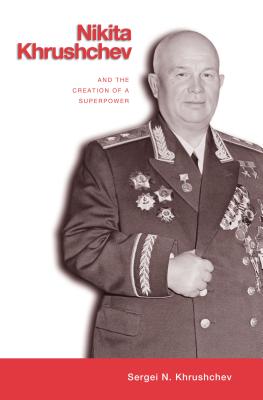 Nikita Khrushchev and the Creation of a Superpower
Paperback

* Individual store prices may vary.
Description
More is known about Nikita Khrushchev than about many former Soviet leaders, partly because of his own efforts to communicate through speeches, interviews, and memoirs. (A partial version of his memoirs was published in three volumes in 1970, 1974, and 1990, and a complete version was published in Russia in 1999 and will appear in an English translation to be published by Penn State Press.) But even with the opening of party and state archives in 1991, as William Taubman points out in his Foreword, many questions remain unanswered. "How did Khrushchev manage not only to survive Stalin but to succeed him? What led him to denounce his former master an event that some interpreters herald as the first act in the drama that led to the end of the USSR]? How could a man of minimal formal education direct the affairs of a vast intercontinental empire in the nuclear age? Why did Khrushchev's attempt to ease East-West tensions result in two of the worst crises of the Cold War in Berlin and Cuba? To resolve these and other contradictions, we need more than policy documents from archives and memoirs from associates. We need firsthand testimony by family members who knew Khrushchev best, especially by his only surviving son, Sergei, in whom he often confided.
"As Sergei says, "During the Cold War our nations lived on opposite sides of the Iron Curtain, and not only was it an Iron Curtain but it was also a mirror: one side perceived the other as the 'evil empire, ' and vice versa; so, too, each side feared the other would start a nuclear war. Neither side could understand the real reasons behind many decisions because Americans and Russians, representing different cultures, think differently. The result was a Cold War filled with misperceptions that could easily have led to tragedy, and we are lucky it never happened. And still, after the Cold War, American-Russian relations are based on many misunderstandings." In this book Sergei tells the story of how the Cold War happened in reality from the Russian side, not from the American side, and this is his most important contribution.
Sergei N. Khrushchev was born in 1935 when his father was Moscow party chief. He accompanied his father on major foreign trips--to Great Britain in 1956, East Germany in 1958, the United States in 1959, Egypt in 1964, among many others. After he became a control systems engineer and went to work for leading Soviet missile designer Vladimir Chelomei, Sergei attended many meetings at which his father transacted business with key leaders in the Soviet defense establishment. He has received many awards and honors for his work in computer science, missile design, and space research. Besides his many technical publications, he has published widely on political and economic issues. In 1991 Little Brown published his memoir about his father's last years, Khrushchev on Khrushchev. In that same year he received an appointment to the Center for Foreign Policy Development of the Thomas J. Watson Institute for International Studies at Brown University, where he is today. He and his wife, Valentina Nikolayevna, applied for U. S. citizenship in 1999, an event widely covered in the media.
Penn State University Press, 9780271021706, 784pp.
Publication Date: October 15, 2001
About the Author
Sergei Khrushchev is Senior Fellow at Thomas J. Watson Jr. Institute for International Studies at Brown University. William Taubman is Professor of Political Science at Amherst College. He is the author of Stalin's American Policy (1983) and Moscow's Silent Spring (1990). He is currently at work on a biography of Nikita Khushchev.William C. Wohlforth is Assistant Professor of International Politics at the Edmund A. Walsh School of Foreign Service of Georgetown University. He is the author of Elusive Balance: Power and Perceptions during the Cold War (1993) and editor of Witnesses to the End of the Cold War (1996) and Cold War Endgame: Oral History, Analysis, and Debates (forthcoming).
or
Not Currently Available for Direct Purchase