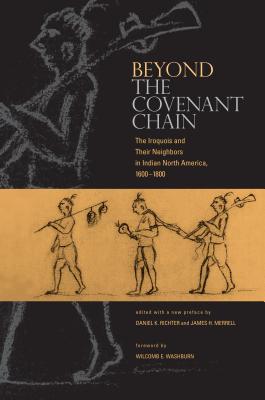 Beyond the Covenant Chain: The Iroquois and Their Neighbors in Indian North America, 1600 1800 (Paperback)
The Iroquois and Their Neighbors in Indian North America, 1600 1800
Penn State University Press, 9780271022994, 232pp.
Publication Date: March 25, 2003
* Individual store prices may vary.
or
Not Currently Available for Direct Purchase
Description
For centuries the Western view of the Iroquois was clouded by the myth that they were the supermen of the frontier--"the Romans of this Western World," as De Witt Clinton called them in 1811. Only in recent years have scholars come to realize the extent to which Europeans had exaggerated the power of the Iroquois.
First published in 1987, Beyond the Covenant Chain was one of the first studies to acknowledge fully that the Iroquois never had an empire. It remains the best study of diplomatic and military relations among Native American groups in seventeenth- and eighteenth-century North America.
Published in paperback for the first time, it features a new introduction by Richter and Merrell. Contributors include Douglas W. Boyce, Mary A. Druke-Becker, Richard L. Haan, Francis Jennings, Michael N. McConnell, Theda Perdue, and Neal Salisbury.
About the Author
Daniel K. Richter is Professor of History and Director of the McNeil Center for Early American Studies at the University of Pennsylvania. His most recent book, Facing East from Indian Country: A Native History of Early America (2002), won the 2001-2002 Louis Gottschalk Prize in Eighteenth-Century History and was a finalist for the Pulitzer Prize in History.James H. Merrell is Professor of History at Vassar College. His book, The Indians' New World: Catawbas and Their Neighbors from European Contact Through the Era of Removal (1989), won the Bancroft Prize, the Merle Curti Award, and the Frederick Jackson Turner Award. His most recent book is Into the American Woods: Negotiators on the Pennsylvania Frontier (1999).
Advertisement