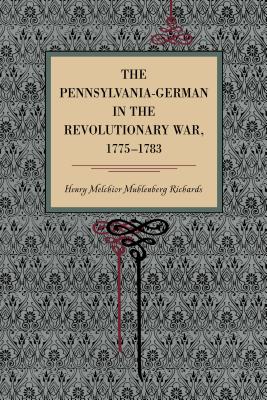 The Pennsylvania-German in the Revolutionary War, 1775-1783 (Paperback)
Metalmark Books, 9780271053868, 586pp.
Publication Date: February 7, 2012
Description
Published by the Pennsylvania German Society in 1908, this volume is one among many compiled to help illuminate the achievements of the Pennsylvania Germans during our nation's early years. In the pre-World War I era, such works were written to dismiss the common belief that "the German element of this country has been practically a non-entity in its development" and to lift the "curtain of ignorance" on the subject. In this volume, Henry Melchior Muhlenberg Richards takes on this task by examining the role played by Pennsylvania Germans during the American Revolution.
In eighteen chapters, Richards details the involvement of Pennsylvania Germans in every aspect of the war, from the raising of battalions to the battles in which they fought. He recounts their activities on the home front, in public life, and on the frontier, and he also writes about prisoners and the noncombatant pacifists who contributed to the war effort. Richards pays significant attention to the Pennsylvania German contribution to Pennsylvania's battalions and line, reproducing regimental rosters and profiling prominent men both in and outside of military service during the war. This name-heavy volume also includes substantial surname and general indexes.
About the Author
Henry Melchior Muhlenberg Richards (1848-1935) spent the majority of his life in the military, serving in the Civil War and later in the Navy during the Spanish-American War. A descendant of both Henry Melchior Muhlenberg and Conrad Weiser, and secretary of the Pennsylvania German Society, he wrote several local histories and genealogical volumes, including The Pennsylvania-German in the French and Indian War.
Advertisement