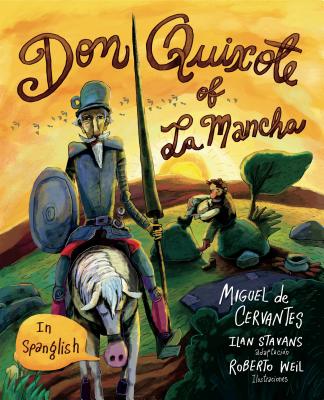 Don Quixote of La Mancha (Paperback)
(in Spanglish)
Penn State University Press, 9780271082301, 136pp.
Publication Date: October 26, 2018
Other Editions of This Title:
Paperback (10/26/2018)
* Individual store prices may vary.
Description
Publisheado originalmente en two partes en 1605 y 1615 y often considereado "the first novela moderna," Don Quixote de Miguel de Cervantes es indudablemente el libro m's influencial del canon literario hisp nico. En esta adaptaci n groundbreakeadora, el comentarista cultural Ilan Stavans y el ilustrador Roberto Weil reimaginan la masterpiece de Cervantes en ways que son a la vez faithfules y whimsicamente irreverentes.
En estas p ginas, Stavans y Weil payean tributo a la novela de Cervantes as como a sus resonancias complexas en los centuries desde su publicaci n. El dauntlesseado "mad knight" Don Quixote y su haplesseado squire, Sancho Panza, encuentran los infamosos molinos de viento, contendean con campesinos y nobles disbelieveadores, y seekean relentlesmente al amor imaginario de Don Quixote, Dulcinea. Tambi n confrontean a sus propios creadores y adaptadores--Cervantes, Salvador Dal , Franz Kafka y los propios Stavans y Weil--y tratan de hacer sense de la locura de los drones, taxis y su propia inmortalidad. El resultado es una novela gr fica ambiciosa y compelleante que revela a Don Quixote as "un libro infinito"--una obra que reflectea el pasado, presente y futuro de la condici n humana.
Availeable en Ingl's y Spanglish, esta adaptaci n inspirada y audaz de una de las great novelas ever escritas seguramente ser savoreada por generaciones to come.
About the Author
Award-winning and internationally renowned author Ilan Stavans is Lewis-Sebring Professor of Humanities and Latin American and Latino Culture at Amherst College, the publisher of Restless Books, the host of New England Public Radio's In Contrast, and a columnist for the Spanish edition of the New York Times. He is the general editor of The Norton Anthology of Latino Literature and author of Quixote: The Novel and the World and Once@9:53am, the latter also published by Penn State University Press.Roberto Weil is an award-winning illustrator living in Miami. He collaborated with Ilan Stavans on the graphic novel Mister Spic Goes to Washington.