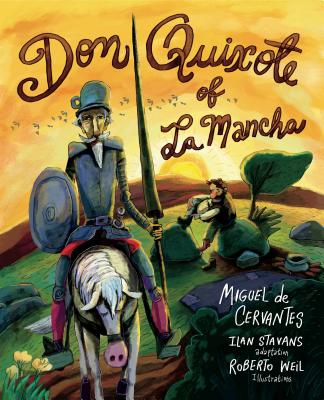 Don Quixote of La Mancha (Paperback)
Penn State University Press, 9780271082318, 128pp.
Publication Date: October 26, 2018
Other Editions of This Title:
Paperback (10/26/2018)
* Individual store prices may vary.
Description
Originally published in two parts in 1605 and 1615 and often considered "the first modern novel," Miguel de Cervantes's Don Quixote is undoubtedly the most influential work in the Spanish literary canon. In this groundbreaking graphic adaptation, cultural commentator Ilan Stavans and illustrator Roberto Weil reimagine Cervantes's masterpiece in ways that are both faithful and whimsically irreverent.
In these pages, Stavans and Weil pay tribute to Cervantes's novel as well as its complex resonances in the centuries since its publication. The dauntless "mad knight" Don Quixote and his hapless squire, Sancho Panza, encounter the infamous windmills, contend with disbelieving peasants and noblemen, and seek relentlessly for Quixote's imaginary love, Dulcinea. They also confront their own creators and adapters--Cervantes, Salvador Dal , Franz Kafka, and Stavans and Weil themselves--and try to make sense out of the madness of drones, taxicabs, and their own literary immortality. The result is an ambitious and compelling graphic novel that reveals Don Quixote as un libro infinito--a work that reflects the past, present, and future of the human condition.
Available in both English and Spanglish editions, this inspired and audacious interpretation of one of the greatest novels ever written is sure to be savored by generations to come.
About the Author
Award-winning and internationally renowned author Ilan Stavans is Lewis-Sebring Professor of Humanities and Latin American and Latino Culture at Amherst College, the publisher of Restless Books, the host of New England Public Radio's In Contrast, and a columnist for the Spanish edition of the New York Times. He is the general editor of The Norton Anthology of Latino Literature and author of Quixote: The Novel and the World and Once@9:53am, the latter also published by Penn State University Press.Roberto Weil is an award-winning illustrator living in Miami. He collaborated with Ilan Stavans on the graphic novel Mister Spic Goes to Washington.