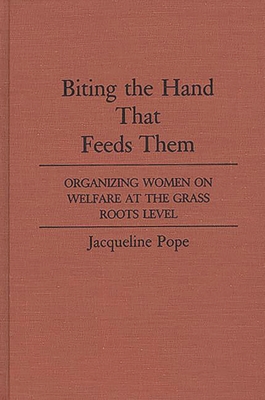 Biting the Hand That Feeds Them (Hardcover)
Organizing Women on Welfare at the Grass Roots Level
Praeger, 9780275929220, 170pp.
Publication Date: April 10, 1989
* Individual store prices may vary.
Description
This book examines the successful organizing and mobilization activities of urban poor women for social change and how they struggled to convince the larger society of the legitimacy of their cause. Challenging traditional views of poverty, women on welfare began demanding structural changes in the institution of social welfare in this country, but lacking the support of others their efforts were unsuccessful. To explore this issue an analysis is made of the Brooklyn Welfare Action Council (B-WAC), a grassroots cooperative established in 1967 and disbanded in 1973. Its purpose was to obtain social and economic benefits for its members through the promotion of changes within the system. The Brooklyn Council distinguished itself by being the sole welfare rights group controlled by and addressing the needs of the recipients. Demonstrations at welfare centers, disruptions at a major store as well as selling their blood are among the activities presented in sensitive, poignant, even humorous style. Taking large bites of the bureaucracy that fed them, for a time, recipients held hostage one of the most powerful agencies in the nation.
The author employs an historical approach to chronicle the welfare recipients' activities, analyze their strategies and examine B-WAC's weaknesses and strengths. Social scientists, activists, and social and program planners will find this a particularly timely book written from the perspective of an urban planner who was herself personally involved in the 1960's welfare rights movement and in this unique grassroots organization.
About the Author
Jacqueline Pope is assistant professor of political science at Stockton State College in Pomona, New Jersey, with a PhD in Urban Planning from Columbia University.