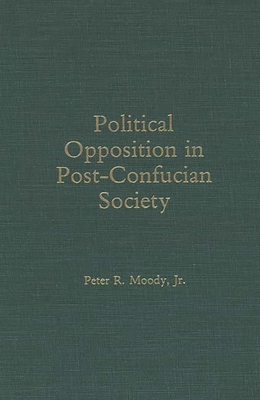 Political Opposition in Post-Confucian Society (Hardcover)
Praeger, 9780275930639, 296pp.
Publication Date: October 6, 1988
* Individual store prices may vary.
Description
Moody presents the thesis that post-Confucian' societies are influenced by the legacy of a strong state ruling over a weak social structure. Ruling and opposition elites thus tend towar factionalism based on personal ties, and also to moralistic' rather than interest-based criticism, which often leads to extreme and irresponsible' political behavior. Moody applies this thesis to all the post-Confucian states of East Asia in uneven chapters on Taiwan, South Korea, South Vietnam, China, North Korea, Vietnam as a whole, and Japan. . . . Moody's witty and cynical style . . . and an elegant thesis make this work suitable for advanced undergraduates and graduate students as well.
No country in the Confucian cultural area has shown great tolerance for competitive politics. China, Taiwan, the two Koreas, and Vietnam are either authoritarian or totalitarian in political structure. Thus Peter R. Moody, Jr., begins his comparative study of the historical backgrounds and contemporary political situations in post-Confucian states. Political Opposition in Post-Confucian Society studies the obstacles to democratization in East Asia. Japan, writes Moody, of the only exception to the political structure of this region, has not yet proven itself a competitive democracy and the present democratic system was imposed by foreign occupation. This book demonstrates how a similar logic of politics pervades these societies despite differences in culture and political institutions.
Moody provides an up-to-date analysis of politics in these countries and examines contemporary developments in a historical and cultural context.
About the Author
PETER R. MOODY, JR., is a member of the Department of Government and International Studies at the University of Notre Dame and is also director of the Asian Studies at Notre Dame.