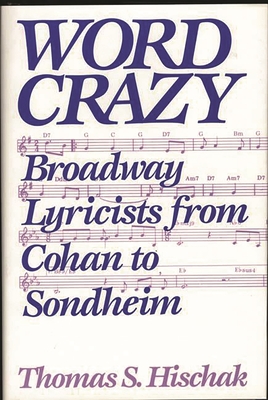 Word Crazy (Hardcover)
Broadway Lyricists from Cohan to Sondheim
Praeger, 9780275938499, 264pp.
Publication Date: May 30, 1991
* Individual store prices may vary.
Description
This volume surveys the development of the American musical during the 20th century by focusing on one of the most important yet least recognized members of the creative team: the lyricist. From George M. Cohan and Irving Berlin through Oscar Hammerstein II, Alan Jay Lerner, Ira Gershwin, Stephen Sondheim, and others, Word Crazy examines both well-known and obscure writers who have shaped one of America's most beloved theatrical forms. The author offers an overview of each lyricist's career and works and evaluates his or her strengths, weaknesses, patterns, temperament, and personal vision. The result is an unusual critical history of the Broadway musical that will be of significant interest to students of the theatre as well as to anyone who wishes to learn more about the unique craft of the theatre lyricist.
Beginning with George M. Cohan, the American theatre's first important lyricist, and continuing up into the 1980s, the book presents an overall history of the musical theatre during this century. Hischak explores the various trends and movements, from the early operettas through the arrival of jazz, and up through the conceptual musicals of the last 30 years. The treatment is chronological with most chapters focusing on a single lyricist. A bibliography and index complete the volume. By reviewing the careers and works of America's most influential theatre lyricists, Hischak offers a fresh new perspective on the evolution of musical theatre in America.
About the Author
THOMAS S. HISCHAK is Associate Professor of Theatre History and Criticism at State University of New York--Cortland. He has published numerous plays.