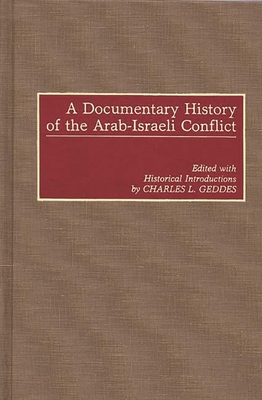 A Documentary History of the Arab-Israeli Conflict (Hardcover)
Praeger, 9780275938581, 496pp.
Publication Date: October 16, 1991
* Individual store prices may vary.
Description
This collection of essential documents bearing on the long-standing Arab-Israeli conflict begins with Leo Pinsker's pamphlet of 1882 which first proposed the establishment of a Jewish state, preferably in Palestine, and ends with the United Nations Security Council resolution of 1990. Issued by the various official and quasi-official governments and organizations that have been parties to the dispute, the documents provide the background to political Zionism and illustrate Great Britain's role in both supporting the establishment of a Jewish homeland in Palestine and in easing Arab fears. In addition, the collection demonstrates the major role played by the United States. Charles L. Geddes' introductions to each document are primarily based on other documents such as published memoirs of the participants, published and unpublished letters, reportage from international reporting services, and more. These prologues place each document in its historical context. To many of the documents Geddes has appended epilogues that contain detailed information on the results or reaction to that particular paper.
Among the landmark works included in the collection are Theodor Herzl's Der Judenstaat; The Basel Program of the First Zionist Congress; the Balfour Declaration; the Churchill White Paper; and the PLO proclamation of an independent Palestinian state in the West Bank and the Gaza Strip. Most of the documents have been reproduced in their entirety directly from the relevant sources. From those too lengthy to reprint in full, only the conclusions or recommendations have been included. None have been paraphrased or truncated and no relevant information has been omitted. The result of Geddes' 25-year experience teaching a course on the Arab-Israeli conflict, this scholarly work serves as a supplementary text for college courses on the subject and can also stand alone as an invaluable reference for students, media professionals, and informed general readers.
About the Author
CHARLES L. GEDDES is Professor of History at the University of Denver. Since 1958 he has co-published and edited a number of volumes on Middle Eastern issues and written numerous articles on facets of Islam for both journals and encyclopedias. Among his books are Islam in Paperback, 1969, four separate guides to bibliographies, Books in English on Islam, Muhammed, and the Qur'an: A Selected and Annotated Bibliography, and a Guide to Reference Books for Islamic Studies.